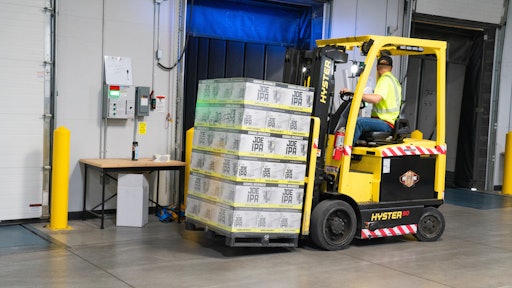 Pexels
Market intelligence firm Interact Analysis has produced a new report predicting significant continued growth in the forklift truck market, and a move away from lead acid to Li-ion technology in the growing electric truck sector.
Interact Analysis reports that, in spite of a poor 2019 and a projected serious pandemic-driven dip in growth from 3.7% to just 1.4% in 2020, there is overall strong potential globally in the forklift truck market. The report predicts that, post 2020, strong growth will resume, rising from the hundreds of thousands of shipped units in the noughties, to 2.4 million units in 2028. Interact Analysis further estimates that the current 60-40 split between electric and diesel vehicles will widen significantly in the next decade, in favour of electric. By 2028, electrified trucks are predicted to occupy 70% of the market, with Li-ion batteries powering almost 50% of machines.
The main drivers of the high demand for forklift trucks, notably in the electric vehicle sector, are the growth in warehousing and logistics, driven by the increase in e-commerce, and a shortage of labour. Interact Analysis predicts that this trend will be accelerated by the present coronavirus epidemic, which has led to a boom in online shopping, most likely changing shopping habits over the long term for many people. Warehouses and distribution centres being enclosed, indoor environments; pollution and noise levels are an issue. Hence the obvious popularity of electric trucks, which, from a charging and range perspective, are particularly suited to these restricted environments. The COVID-19 crisis is also likely to see a growth in the Class 3 automated truck sector in manufacturing, as part of a strategy to mitigate against the effect of further global shocks. It was high levels of automation of some factories in China which enabled them to continue production during the coronavirus epidemic, whereas factories with high levels of manpower closed down their production lines.
Lead acid battery technology has dominated the electric forklift sector for many years, being reliable and secure in supply. However, mainstream forklift truck suppliers worldwide have already launched Li-ion powered trucks. BYD produced over 30,000 units in 2019. The initial outlay on these trucks is higher, but there are significant benefits in terms of total cost of ownership arising from the superior energy density of Li-ion batteries, their cycle life, their efficiency, their low maintenance and their shorter charging times.
Amazon and Walmart in the USA have moved to using trucks powered by hydrogen fuel cells. But hydrogen cell technology is young, and there are issues currently preventing it from becoming a dominant player, including its high initial purchase cost, and the fact that hydrogen gas is difficult to store, it's highly inflammable, and its production is dependent on fossil fuels. More than 90% of hydrogen forklifts sold in 2019 were in the North American market, where Plug Power, an American company specializing in the production of hydrogen fuel cells, has persuaded a number of forklift truck producers to come on board with the technology. Interact Analysis predicts that by 2028 Europe will have achieved a 44% share in this market, but it will be a restricted market. Elsewhere, there is limited enthusiasm for the technology.
While China accounted for 36% of the global forklift truck market in 2019 (Europe 30%, North America 15.3%) less than 50% of shipped forklift trucks in APAC were electrified, compared with more than 85% in Europe. These figures are striking, given that the lion's share of Li-ion battery production is in APAC and the report predicts a significant growth in electrification in APAC, bringing its share to 61% by 2028.