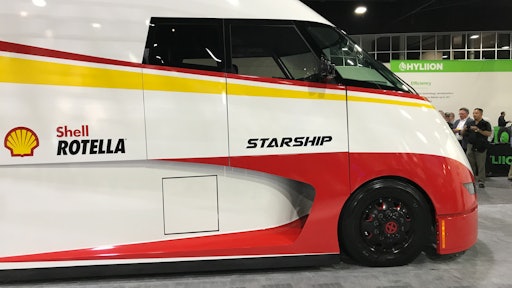 Shell and AirFlow Truck Company have designed and built a hyper-fuel-efficient Class 8 truck capable of reducing the energy usage associated with the transportation of goods. The Starship Project, uses technologies that are currently available to minimize the amount of energy it takes to transport a load of cargo from one point to another.
  "We seek projects such as the Starship initiative to keep Shell at the leading edge of technology development and energy efficiency," said Bob Mainwaring, technology manager for innovation, Shell Lubricants. "The transportation industry is constantly changing, and our goal is to be at the forefront of innovation by collaborating with companies like AirFlow and others to develop creative solutions that provide benefits for years to come."  
With new fuel economy regulations on the horizon, and the need for continuing advances in fuel economy and emissions reductions, Shell Lubricants recognizes that a holistic approach to making fuel economy gains is important. This includes advances in engine and drive train technology, the use of low viscosity synthetic lubricants, aerodynamic designs, efficient driving methods and more.
Shell provided technical consultation on engine and drivetrain components, as well as recommendations for lubricant needs for use in the Starship Project truck. The engine will run on Shell Rotella® T6 Ultra 5W-30, which is a low viscosity API FA-4 engine oil that has been formulated to provide better fuel economy, improved high and low temperature performance and meets the requirements for many low emissions engines.   
Starship Project Testing
The Starship Project will undertake a cross-country run in May that will begin in California and end in Florida carrying a real load of cargo: clean reef material destined for a new reef installation off the coast of Florida later this summer. AirFlow and Shell will seek to reduce the energy usage associated with the transportation of goods through improved fuel-economy for a Class 8 truck and the measurement of freight ton efficiency.
"For more than 30 years, Shell has employed co-engineering to increase efficiency and reduce emissions," said Mainwaring. "The relationship with AirFlow Truck Company and other suppliers to build the Starship Project is part of a collaborative process led by Shell that encourages co-engineering and has resulted in a Class 8 truck that will be used to challenge how trucking efficiency is defined."