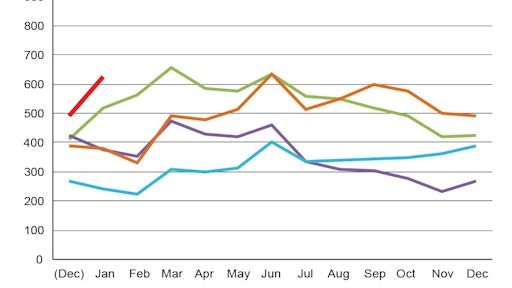 Spot truckload rates for van, refrigerated (reefers) and flatbed freight set new records in January as capacity remained tight due to shipper demand and fallout from the electronic logging device (ELD) mandate.
The national average spot van rate was $2.26 per mile in January, up 15 cents compared to December and 59 cents higher than January 2017, to set an all-time record. January's spot rate also exceeded the average contract rate by 14 cents, meaning that truckload carriers were paid more for one-time loads from freight brokers than for longer-term contracts negotiated directly with shippers. 
At $2.66 per mile, the national average spot reefer rate was 18 cents higher month over month and 71 cents higher compared to January 2017. As with vans, the reefer rate was higher than any monthly average since at least 2010, when DAT began tracking spot market freight rates in DAT RateView. The spot rate was 31 cents higher than the average contract rate, an extraordinary gap for reefer freight in January.  
The national average flatbed spot rate was $2.39 per mile, 7 cents higher compared to December and 47 cents higher year over year. The spot rate beat the average contract rate by 7 cents. Flatbed line haul rates, excluding fuel, were higher for flatbeds in January than in any previous month. When fuel surcharges are added, however, January's total rates for flatbeds were a few cents lower than in the summer of 2014, when average surcharges were 20 cents above today's levels.  
Economic growth contributed to the surge in rates but so did capacity constraints related to ELDs. Beginning December 18, 2017, federal rules require interstate carriers to use ELDs to record driver hours of service, and many fleets have reported that the transition can hamper productivity. 
These factors caused demand for spot truckload freight services to increase 28 percent over December and 65 percent compared to January 2017, as shown in the DAT North American Freight Index.