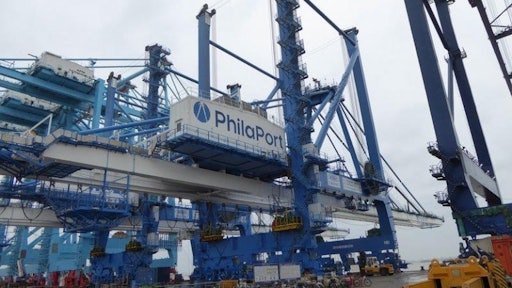 PhilaPort has concluded the purchase agreement of two super post-Panamax container gantry cranes that will help lift the port to record new levels of cargoes over the next decade. The $23.5 million acquisition from Shanghai Zhenhua Heavy Industries Company Limited (ZPMC) of Shanghai, China is the second purchase of cranes by PhilaPort in the past year. This will bring the total number of new cranes purchased for Packer Avenue Marine Terminal (PAMT) in the past year to four.
The first two cranes (the Holt crane and one PhilaPort crane) will arrive in March 2018. Then, cranes No. 3 and 4 (both PhilaPort cranes) will arrive at PAMT in April 2019.
"The second set of cranes will mirror the two cranes arriving in the first quarter of 2018," said PhilaPort CEO Jeff Theobald. "These new cranes will be the largest and most modern, capable of unloading containers from the largest container ships in the world."
Last year, Pennsylvania Governor Tom Wolf's $300 million Port Development Plan formed a public-private agreement for capital improvements to PAMT. Under the plan, the terminal operator, Greenwich Terminals, a Holt subsidiary, agreed to purchase one gantry crane, and PhilaPort would buy three gantry cranes. "Each step in the development of PhilaPort is another important move in strengthening the economic success of the entire commonwealth," said Governor Tom Wolf. "My administration is proud to partner with our port regions to invest in our infrastructure, bring key jobs to the region, and keep Pennsylvania's economy competitive on a global scale."
PhilaPort is on track to reach a record in total containers handled in one year.
"We are busier than ever before, and we will certainly be well over 500,000 TEUs," said Tom Holt, Jr., President of Astro Holdings Inc. which operates PAMT for PhilaPort. "The new cranes can't arrive soon enough because they will help us reach our goal of handling one million TEUs per year."
Philadelphia labor is already a leader in East Coast container productivity. The new cranes will allow terminal management and labor to meet the expectations of the PhilaPort's ocean carrier partners.