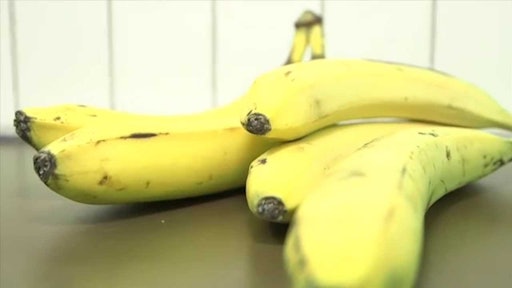 On a hot day in June, the Hermann Hesse slipped into New York Harbor and headed for the Red Hook Container Terminal in Brooklyn. The 550-foot container ship, flying the Liberian flag, had come some 3,000 miles from Ecuador. It had gone through the Panama Canal, picked up cargo in the Caribbean and weathered a few squalls. Its arrival in Brooklyn was only the beginning for the bananas on board.
Every week, a ship like this one brings 40 container loads of bananas—or about four million—to the Red Hook terminal, a fifth of the 20 million bananas distributed around New York City each week.
When bananas arrive in New York, they begin a second journey, traveling in a large loop around the city. They may be handled by customs officials in Brooklyn, blasted with a ripening gas in New Jersey, haggled over at an enormous produce market in the Bronx and finally taken in an unmarked truck, at night, to a fruit stand near you.
In most of the country, the unseen, nocturnal business of ripening and distributing bananas is performed by grocery chains like Safeway. In New York, though things may be headed in that direction, much of the work still falls to local banana purveyors. They can trace their roots back to Antonio Cuneo, an Italian immigrant who cornered the market in the late 19th century and became known as the Banana King.
To read the full original article, please click here.