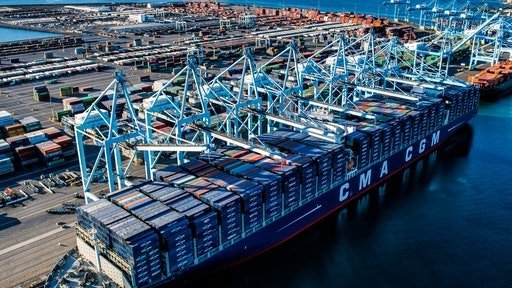 Port of Los Angeles
Who can forget the Great Toilet Paper Shortage of 2020? The disruptions of COVID-19 highlighted not only how vulnerable the world is to viral pandemics but also how fragile supply chains are. The virus, which hit China's manufacturing hubs especially hard, caused widespread production delays, factory shutdowns and massive backlogs at ports worldwide.
The result? Haunting images of grocery store aisles from Tulsa to Tokyo picked nearly clean. Fortunately, those shortages were short-lived, and the industry has rebounded more or less to normalcy. While 2020 certainly strained the system, it didn't break it. But the next big crisis might. And the scarier reality is that it may not take a catastrophe of global magnitude to bring shipping logistics to a grinding, disastrous halt.
The staffing shortages arose from a number of factors, including the mass retirement of Baby Boomers, general attrition and lack of new workers entering the industry.
Businesses responsible for supplying critical goods, like cold foods and beverages, need to be prepared not only for the possibility of global disruptions but also for these local ones. Luckily, there are affirmative steps the industry can collectively take to prepare itself.
The benefits of nearshoring
One of the best strategies for mitigating supply chain disruptions at the local level is to deconcentrate ports of origin and ports of entry. More than half of all U.S. imports arrive through main West Coast ports and just three other coastal cities: Newark, Savannah, and Houston.
China and Hong Kong are by far the biggest exporters, accounting for over $134 billion in cargo value flowing through the port in 2022, compared with just $38 billion from Japan, next on the list. In fact, cargo from East Asia as a whole constitutes 95% of all imports entering the United States through Southern California's harbors. So, logistical breakdowns along this one stretch of the Pacific coastline can spell disaster for vendors and consumers across all 50 states.
Here's where nearshoring comes in. Nearshoring is the practice of moving business operations or manufacturing centers to a country closer to the import destination, typically within the same geographic neighborhood. This contrasts with offshoring, which is the practice of moving these operations further afield, usually to save on human capital and manufacturing costs.
For alleviating stress on the Trans-Pacific supply chain, Mexico is an ideal locale for nearshoring. Manufacturing in Mexico and transporting goods by truck or rail helps to avoid congestion and perennial labor issues at the ports.
Most goods move over the U.S.-Mexico border by truck, and trucking as an industry is less susceptible to labor disruptions than commercial ports. Trucking is more decentralized than maritime shipping – many truckers are independent contractors, aka owner-operators – and this has historically made it more difficult for monolithic unions and industrial associations to exert wide control. A labor disruption in one part of the trucking industry is less likely to affect cross-border trucking as a whole.
What's more, for shipments containing temperature-sensitive goods, like cold foods and beverages, time is money.
These shorter lead times reduce transportation costs. As of 2023, it costs between $6,500-10,000 to ship a 40-foot container from China to the United States. From Mexico, it's between $1,000 and $5,000. That's a 50-85% reduction in shipping costs per container.
Nearshoring in Mexico also has wider implications for the North American market. Building factories and distribution hubs on this continent creates local jobs and boosts the Mexican economy. This not only makes for a more dynamic trade partnership with the United States, but it can also raise the standard of living in Mexico and alleviate downstream issues like undocumented border crossings, which are often motivated by a lack of financial opportunity at home.
Finally, as more companies are looking to Mexico, they're finding they don't necessarily need to make the traditional trade-off between nearshoring and offshoring financial benefits. Namely, labor costs in Mexico are actually less, on average, than they are in urban Chinese areas, where both the minimum wage and cost of living are higher in the urban, coastal areas.
Other supplier-level strategies
There are other strategies that individual suppliers can employ to deal with logistical problems at home. Half of the battle when it comes to dealing with shipping disruptions is knowing where things stand – literally. By tracking the location and progress of shipments in real-time, suppliers are better equipped to predict bottlenecks and breakdowns.
Utilizing precise cargo tracking with GPS technology, businesses both sending and receiving goods over international borders can calculate realistic delivery timelines and communicate those expectations to vendors. No more relying on standardized, sometimes overly optimistic forecasts provided by traditional freight companies.
Suppliers can also use smart containers, which allow them to monitor shipment humidity and temperature controls, allowing for accurate, real-time prediction of cargo damage or loss.
This is a perpetual concern in cold food and beverage shipping, where lengthy port delays can result in malfunction or even failure of freight refrigeration systems. Having smart monitoring systems in place is especially useful for setting and communicating shipment expectations with vendors. And it's critical to establish a record to support freight claims submitted to carriers and insurers in the event of a loss.
Of course, all of this tracking data is only helpful if it's adequately organized and easily accessible. This is why it's in suppliers' best interests to research and adopt a collaborative digital logistics platform. Effective systems of this sort should offer 24/7 transparent visibility of all shipping operations, past, present, and future. Such systems should also feature instant cargo updates, easily navigable cloud storage, and comprehensive shipping reports that users can generate at the press of a button.
Final thoughts
We all remember 2020 as a year of hard lessons. But the three years since have also been a real laboratory of innovation in supply chain management. Companies involved in shipping food and beverages really owe it to themselves to look into the latest developments in logistics management.