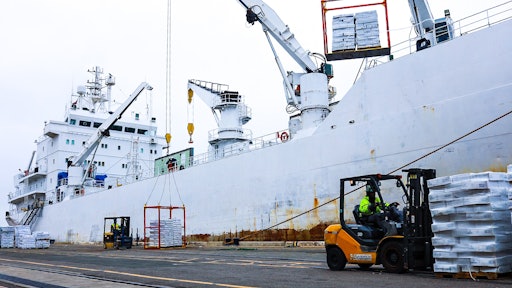 JAXPORT
As Americans continue lifestyle changes made during the pandemic to include healthier choices, demand for fresh and frozen food continues to rise. According to the American Frozen Food Institute, frozen food sales were up 21% in 2020. Restaurants are changing their menus to include a variety of options tailored for every diet. Food grown and raised worldwide now has an avenue to reach more people than ever before. And that means what used to go out of season 30 years ago is now in season year-round with the ability to ship food from various climates.
Food is part of our culture. It's common to snap photos of our kitchen creations and unique dishes from hometown hotspots. However, with a growing demand for a wider variety of food comes an increase in shipping. Since the beginning of the pandemic, supply chain congestion has impacted ports, ocean carriers and many others in the transportation and logistics sectors. It prompted food companies to think outside the box and explore alternative shipping methods like breakbulk (outside the container) to move cargo cost-effectively and efficiently. With more shippers considering new ways to reach customers, there are four areas to consider to determine if breakbulk will suit your needs.
Making the transition outside the container
The main types of food moving through U.S. ports are protein, seafood and produce. Protein items like beef, pork, poultry and seafood products like shrimp, lobster and fish fillets are shipped frozen. Produce such as fruits and vegetables are chilled and shipped refrigerated.
As ports offer services across the globe expanding the supply chain, we are now exposed to a variety of products all year. For example, fruit comes to the United States from many different countries. Specific varieties like blueberries and strawberries coming from South America arrive when they're not in season in the U.S. It's providing more options for consumers and opportunity for shippers to meet the pent-up demand for these items.
Prior to the pandemic, these food items moved in containers. Then, supply chain bottlenecks brought on by the pandemic led to increased container pricing and limited container availability, prompting shippers to return to breakbulk, an older way of shipping cargo across the ocean. This trend is popular for food shippers because it's easier to charter a breakbulk vessel and less expensive to move cargo without the container.
Now, we see protein, seafood and produce regularly transporting to the United States as breakbulk, with the exception of lobster. Its high market value still makes it worthwhile to ship in a container to avoid the risk of it not staying frozen during the voyage.
Evaluating the necessary infrastructure
When shipping refrigerated containers, reefer plugs are a must. Now demand for those plugs is on the rise, as more containers are needed in the industry.
In shipping breakbulk, one of the most important factors to consider is whether the infrastructure is there to support loading and offloading once the vessel arrives at a port. Because breakbulk was more prevalent decades ago, the current infrastructure at most ports has modernized to accommodate containers. If breakbulk were to remain a priority shipping method for cargo that recently transitioned outside of the container, ports would have to look at how to modify their infrastructure.
For now, the increase in breakbulk may last another one or two years. If ports were to invest in additional infrastructure to handle breakbulk, there would need to be more of a volume guarantee before anything is built.
The question now is how long will breakbulk's popularity last. If the trend with container pricing continues, more refrigerated warehouse space on port properties would be an added benefit to accommodate the increase in breakbulk shipments.
Options for warehousing and distribution
When shipping breakbulk, warehousing is one of the most critical pieces to ensure cargo moves through the supply chain. It's optimal for efficiency to have warehousing close to the berth so it has a place to be stored after being offloaded from the ship. If there's limited on-dock warehousing, the next alternative is available trucking to a warehouse near the port. Many ports have seen new cold storage warehouses built in recent years to accommodate the demand for cold food.
Having a reliable dray network with multiple trucking operators ready to move large quantities is also a huge benefit to beneficial cargo owners and shippers. They want to know the cargo can move off the ship to its next location quickly and efficiently in excellent condition.
Experienced terminal operators
Last but not least, whether it's a shipper or port involved in moving breakbulk cargo, having experienced terminal operators who can handle the products is essential to the operation. There are intricate details in handling breakbulk, especially food that comes through the U.S. supply chain and requirements that need to be met by the U.S. Department of Agriculture (USDA).
The terminal operator can ensure breakbulk cargo is moved quickly from ship to truck or ship to warehouse. Most of it is moved to a warehouse for distribution. Warehousing at a port is limited because the product cannot move off fast enough to make space for incoming cargo. The average time it takes for breakbulk cargo to move out of the port is 7-10 days. With cold food, this timeframe all depends on the retail operation and whether they have space for distribution.
Having an experienced terminal operator that understands breakbulk can position a port or ocean carrier to provide solutions during supply chain disruption.
While we're still in a phase of adjustment, companies are exploring breakbulk. They're chartering ships. They're open to opportunities to meet customers' needs. As the supply chain experiences its ebbs and flows, breakbulk is an efficient solution for moving time-sensitive cargo.