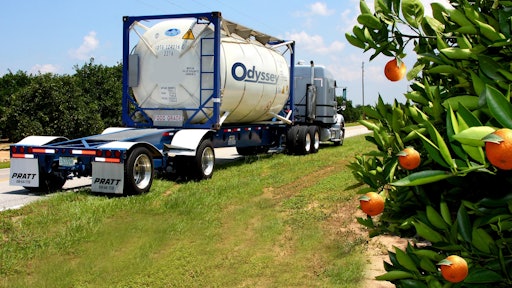 Odyssey FoodTrans LLC, a subsidiary of Odyssey Logistics & Technology
Undoubtedly, 2020 brought seismic change to the cold food and beverage logistics industry. The Coronavirus disease (COVID-19) pandemic that made its way to the United States in early 2020 sent the industry scrambling to meet the rising demand for refrigerated services, upending many of the time-honored processes and practices for transportation, cold storage and cold chain logistics. Is there an end in sight? Will the cold food and beverage logistics industry return to pre-pandemic normalcy sometime in 2021? Here are five trends to watch for in the maritime sector come 2021.
COVID-19 anxiousness to continue
With or without a vaccine for COVID-19 in 2021, demand will likely continue to be high for refrigerated services. In 2020, demand for cold food and beverage soared in response to the pandemic. Big box stores were hard-pressed to keep refrigerated and frozen foods on shelves. Juice sales increased by 40% as consumers sought nutritional beverages to boost their immune systems. Sales for off-premise consumption at home led to alcohol flying out of warehouses at staggering rates.
Unease about a potential second or even third wave of the pandemic will drive consumers to continue to predominantly cook and drink at home or order take-out, even as restaurants operate at limited or full capacity for indoor dining. In the last quarter of 2020, restaurant business started to increase, and certainly the availability of a vaccine in 2021 will instill more confidence in dining out. But, the mass transportation of a vaccine will put pressure on refrigerated capacity, cutting into refrigerated services already strained to meet the current surge in demand for cold food and beverage.
Ongoing upward cost pressure
Price, demand and capacity issues will continue to converge, especially into the first quarter of 2021, possibly extending into mid-year. The current demand for refrigerated trucks, cold bulk storage and intermodal transportation remain high as the industry contends with ongoing capacity shortages. Without enough capacity to transport cold food and beverage, more products are being held in already congested warehouses.
To mitigate upward cost pressure, cold chain logistics providers are negotiating rates. There will also likely be more forward-buying in 2021, as retailers and consumers anticipate additional virus waves, which could lead warehouses to prepare for disruption by securing more space longer term. All of this would compound the upward cost pressures the industry already faces.
Balancing price and quality
As more cold food and beverage are transported throughout the United States, the impetus will be on ensuring quality through temperature-controlled transport and that will likely drive up costs for logistics services. For instance, shippers today are willing to pay more to ensure products arrive with a high level of quality assurance. Not long ago, about 10% of dairy was transported in temperature-controlled containers from California to Hawaii. Today, it's almost 100% refrigerated shipments. To combat rising costs, logistics services will likely start to consolidate refrigerated and dry freight where possible and optimize delivery routes and processes. They'll also likely seek to secure more cold storage space, especially big box stores, to minimize the impact of potential future disruptions.
The pandemic has also reinvigorated the concern around the shrinking pool of truck drivers. Shippers will continue to use all the services they can — truck, rail, intermodal — to gain more flexibility and prevent situations where they can't deliver services. Customer expectations for quality cold food and beverage products will also come into play, likely driving competitors in the cold chain logistics space to enter into joint ventures to ensure all service levels are met and costs are manageable.
Further supplier consolidation and services expansion
Expect to see more trucking, cold storage and cold chain logistics consolidations to capitalize on market conditions in 2021. Larger enterprises will continue to purchase smaller organizations and sole cold chain players will exit the dry space entirely and build out fleets for temperature-controlled transport. Cold storage warehouses may expand services to offer refrigerated short-haul trucking and drayage.
The industry will also see shippers rationalizing the cold food and beverage production chains. For instance, many brewers tend to operate in a specific geographic area and truck product fresh from the breweries. Organizations will rationalize where they are making product to limit the amount of time it has to dwell somewhere before hitting the retail shelves. Furthermore, holiday spikes in demand may drive warehouses to add delivery services to their mix of offerings. Rather than parking cold food and beverages in cold storage waiting for cold trucks, warehouses will likely add trucking operations and take on deliveries. And, with e-commerce being a fast-growing market for cold food and beverage, warehouses may even start to take on last-mile deliveries if they can access refrigerated trucks.
Navigating safety and seasonality
When it comes to temperature control, shippers are increasingly required to prove that their facilities and vehicles comply with food safety regulations at every touchpoint all the way to their customer's door. As a result, third-party audits have become increasingly common among shippers and warehouses. With the drive to secure additional storage space and more modes of transportation in the event of a second or third wave of COVID-19 as well as increased direct-to-consumer delivery, the industry can expect higher safety regulations and expectations for cold food product delivery in 2021.
Seasonality for cold food and beverage products has typically been very predictable. But, recovery times after seasonal demand spikes for items like spring produce, turkeys at Thanksgiving, ham at Easter and cold beverages for the Fourth of July will be shorter due to the consistently high demand caused by the pandemic. For instance, a warehouse might normally have an inventory of 1.5 million cases of alcoholic beverages during the month of September. But, the rise in demand during the pandemic has reduced inventories dramatically, in some cases down to 25% of historical volumes. However, the inbound volumes of product being cross-docked through the warehouses has increased well in excess of historical volumes. Moving into 2021, this will likely continue. The industry will still feel pressure during produce, beverage and other seasons, but large shippers will continue forward shipping inventories, keeping demand high between seasonal peaks.