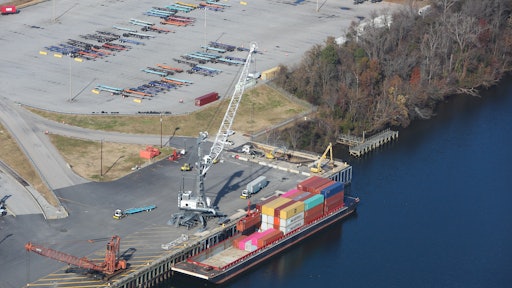 Port of Virginia
Supply chains are complicated, and moving food – perishables and refrigerated goods – adds another layer to the effort of transporting this valuable, time-sensitive cargo.
But, as this segment of cargo continues to grow, so too does the competition.
As ship lines consolidate, larger vessels are calling on ports on both coasts. However, they're taking on and discharging larger amounts of volume at a smaller number of ports.
Case in point: Container vessel size in terms of twenty-foot equivalent unit (TEU) capacity calling on The Port of Virginia, Norfolk, Va., increased by nearly 70% from 2014-2019. The largest vessel in 2014 had a capacity of 8,500 TEUs. In 2019, that figure ballooned to 15,300 TEUs.
While these larger vessels may create challenges for smaller ports, they also present opportunities for those willing to invest.
In October 2017, The Port of Virginia began participating in the USDA's pilot program, which allowed imports of certain refrigerated fresh fruits from South America. Under the program, Virginia could import cold-treated containers of blueberries, citrus and grapes from Peru; blueberries and grapes from Uruguay; and apples, blueberries and pears from Argentina. The port completed that program in 2018, and shortly thereafter, private refrigerated warehouse owners began making parallel investments to handle the cold and frozen cargo once it left the terminal.
Because of the time-sensitive nature and the need for constant temperature control, refrigerated cargo opens an opportunity for ports to provide a needed service while growing their volumes and revenue.
For instance, Virginia is working to diversify its cargo mix, and an area of focus is refrigerated cargo. The Port of Virginia is East Coast's leading exporter of vegetables, and current developments combined with ongoing investments has the port optimistic about its future in this area of business.
Owners of this cargo need reliability, predictability, capability and capacity in their supply chains. They want assurances the cargo is going to arrive, or depart, on time and be well taken care of in the process. More importantly, they need this experience to repeat itself consistently.
That's why The Port of Virginia continues to make strategic investments to meet the needs of those cargo owners. As the industry changes, the ability to listen to those needs and respond is the determining factor in a port's ability to provide world-class and reliable service to all users.
The Port of Virginia launched a $1.5 billion investment in its infrastructure in 2015, and began in earnest in 2017 when it started work on a $750 million capacity expansion project at Virginia International Gateway and Norfolk International Terminals (NIT). When complete this year, the port will increase its annual container capacity by 40%, double its rail capacity, lengthen its berths to accommodate multiple ultra-large container vessels, transition NIT to a rail-mounted gantry crane operation and double the number of refrigerated plugs to more than 2,300.
In late 2019, dredges began widening and deepening the port's channels to 55 feet to accommodate safe, two-way vessel traffic.
Quickly transporting that cargo to inland destinations is another opportunity to provide a valuable service to cargo owners.
One of the most efficient and effective ways to do that is by barge. Daily barge service to and from the port's Richmond Marine Terminal (RMT) can move up to 135 containers – many of them refrigerated thanks to a multi-plug generator – 100 miles up the James River where they can be transported to their final destinations. Several major grocery chains have located distribution facilities near RMT due to the barge service.
The port also moved nearly 70,000 containers of refrigerated goods last [fiscal] year, and through its investments, doubled its capacity to handle cold cargo. This opens up many new possibilities for ocean carriers and cold cargo owners.
In fiscal year 2019 (July 1, 2018-June 30, 2019), more than 2.8 million TEU containers filled with a variety of consumer goods, agricultural products, food and more moved across Virginia's port. Those goods and commodities moved to and from the port via an expanding transportation network that reaches throughout the Mid-Atlantic and into the Midwest via trucks, double-stack trains and barges.
Still, the port isn't solely focused on refrigerated cargo; it moves significant amounts of import coffee beans for processing, packaged grocery products, grocery exports for the Military Exchange and export grains used as ingredients in prepared foods.
Virginia's position in the logistics supply chain for food exports and imports is expanding. This cargo is valuable, and it is up to ports to move it safely and reliably.
Developing long-term relationships is vital to ensure that this important business segment continues to meet its needs to promote growth, prosperity and responsible stewardship during transport.