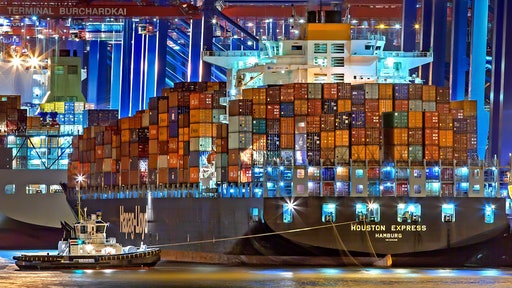 Getty Images
The Coronavirus situation is developing daily, and the container shipping industry is feeling a sharp impact. What's more is, cargo owners worldwide are about to experience significant problems for the coming months.
A study from Sea Intelligence ApS, Denmark, shows the rapid escalation in blank sailings, which means that cargo owners – including those not exporting from China -- need to take stock of the situation and prepare contingency plans.
Chinese manufacturing remains closed to a large degree, with opening dates continuing to be postponed. This keeps export demand from China at extremely low levels, forcing mass-cancellations of sailings by the carriers. In very round numbers, the study unveils a shortfall of some 300-350.000 TEU per week in the market. Again, in very round numbers, if this is at average rate levels of around 1000 USD/TEU, it equals a revenue shortfall for the carriers of $300-350 million per week.
The rapid mass-cancellation of additional sailings has a high likelihood of causing capacity shortages for back-haul shippers 3-6 weeks into the future, depending on geography. Therefore, back-haul shippers should prepare contingency plans for potential capacity issues and significant spikes in price.
In terms of operations, expect larger than normal delays in the sailing schedules, an effect which will be felt for several months, as the delayed vessels work their way around their planned loops. Additionally, as manufacturing plants in other countries pick up some of the slack, this can cause capacity issues in secondary ports as well as an impact on feeder carrier rotations.
The study also shows a total of 21 sailings are now being blanked due to the Coronavirus on the Transpacific, taking 198.500 TEU out of action. This is on top of the 61 sailings already blanked due to Chinese New Year, bring the total number of blank sailings to 82.
For Asia-Europe, 10 sailings are blanked, removing 151,500 TEU from the market, bringing the total number of blank sailings to 54 across North Europe and the Mediterranean.
Looking at the post-Chinese New Year period for the combined period of Week 5-12, the strongest impact right now is on the trade lanes to North America West Coast, North Europe and the Mediterranean. The seasonal capacity reduction to the North American West Coast has escalated from 16% to 23%, for North Europe from 21% to 24% and for the Mediterranean, the capacity reduction has increased from 16% to 22%.
With increasing announcements in the past 24 hours of factories extending closure periods further, it seems likely that the number of blank sailings might also escalate in the coming week.
There are also the fears of a breakdown in global supply chains, as additional restrictions are placed by the ports on visitors from China. The list of countries instituting a quarantine on visitors arriving from mainland China is already increasing. Hong Kong has instituted a 14-day quarantine for people arriving from mainland China, while Singapore, Taiwan, and the United States have all temporarily suspended entry of foreigners who have been in China in the two weeks before arrival in the destination country.
With diminished manpower, numerous Chinese ports are bound to experience operational problems, which would lead to lower port efficiency and increased delays in port operations. Furthermore, this loss of manpower will potentially also spill over to the yards, which would inevitably delay scrubber installations and result in the number of idle vessels piling up.
While most ports are instituting measures to reduce the impact of Coronavirus, Australia is the first country to have announced a 14-day quarantine period for vessels coming from China. From a liner shipping perspective this is not a major problem, as the typical transit times from last port in China to first port in Australia are typically around 14 days anyway.
The Philippines, on the other hand, will not be banning (or placing under quarantine) ships coming from China, contrary to early reports. However, they have banned the crew form disembarking, along with a ban on visitors from going on board the vessel.
Although some cruise terminals are being closed, while others have placed cruise ships under a 14-day quarantine, it is hard to envision a rationale for the outright closure of container ports. What is most likely to happen, and what is already being instituted at a number of ports, is that the crew will be barred from disembarking or put under intense medical scrutiny. While this may curtail the spread of Coronavirus to some extent, it creates another big problem of its own; that of crew change.
Ships that need a crew change would either have to have an entirely non-Chinese crew on board or would have to make a port call in a port with no disembarking restrictions. Add to that, if a crew member on board is found to have contracted the virus, the vessel would be quarantined, or worse yet, forced into a process of de-contamination. These issues, coupled with the potentially inefficient port operations, will seriously impact the carriers' ability to maintain schedule integrity.
As such, shippers need to prepare themselves for significant changes in their supply chains.
As the Coronavirus epidemic continues to spread, countries outside of China are starting to tighten restrictions on people entering the respective countries from mainland China. Ports are starting to enforce bans on disembarking of crew on vessels coming from China, while some cruise terminals are either closed or enforcing a 14-day quarantine period.
As factories remain closed, demand will remain extremely subdued.
The consequences are already tangible, as carriers have announced a substantial amount of additional blank sailings. Essentially, as long as the factories remain closed, demand will remain extremely low. And as such, any further postponement of factory openings, will inexorably lead to even more blank sailings from the carriers.