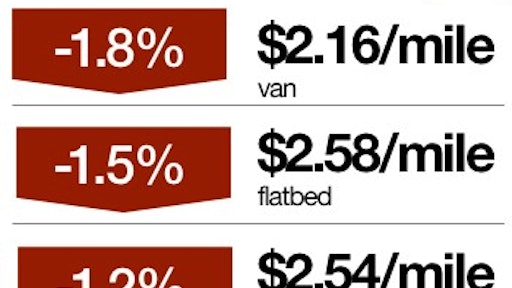 Load-to-truck ratios and spot truckload rates moved lower during the week ending Sept. 15 as supply chains adjusted to the effects of Hurricane Florence and freight continued a seasonal decline, said DAT Solutions, which operates the DAT network of load boards.
The national average spot van rate fell 4 cents to $2.16/mile after a 6-cent increase the previous week. The reefer rate, which gained 8 cents the previous week, slipped 3 cents to $2.54/mile. Still, van and reefer rates remain higher than their August average.
Van and reefer shipments into storm-impacted areas were heavy leading up to Friday, when Hurricane Florence made landfall, but flatbed shipments paused. Flatbed movements tend to pick up in the days following an emergency once it's safe to move rebuilding materials and equipment. As a national average, the flatbed rate fell 4 cents to $2.58/mile.
VAN TRENDS: A 20 to 25 percent increase in load posts is typical in the week following a four-day workweek. As the Southeast braced for Florence, van load posts were up only 13 percent on DAT load boards. Truck posts increased 24 percent, which resulted in a national average of 6.6 loads per truck, a 9 percent decline.
However, overall volumes on the Top 100 van lanes hit a new high.
Before the storm hit, there were big spikes in van rates heading into the Carolinas and Virginia:
The average van rate on the lane from Allentown, Pa., to Richmond, Va., jumped up 60 cents to $3.44/mile, an extremely high rate coming out of the Northeast.
Atlanta to Charlotte gained 20 cents to $2.96/mile.
The average outbound rate from Charlotte rose 3 cents to $2.54/mile, as shippers moved goods out of the area ahead of the storm.
REEFER TRENDS: Reefer load posting activity was up 7 percent and truck posts rose 14 percent compared to the previous week, which included the Labor Day holiday; a 20 percent increase expected. That resulted in a 7 percent decline in the load-to-truck ratio, from 8.3 to 7.7 loads per truck.
FLATBED TRENDS: The national flatbed load-to-truck ratio dipped from 25.5 to 23.3 loads per truck. Flatbed load posts on DAT load boards increased 15 percent and truck posts jumped 26 percent.
DAT Trendlines is generated using DAT RateView™, an innovative service that provides real-time reports on prevailing spot market and contract rates, as well as historical rate and capacity trends. RateView's comprehensive database is comprised of more than $45 billion in freight bills in over 65,000 lanes. DAT load boards average 993,000 load posts per business day.
For the latest spot market load availability and rate information, visit http://dat.com/trendlines and join the conversation on Twitter with @LoadBoards.