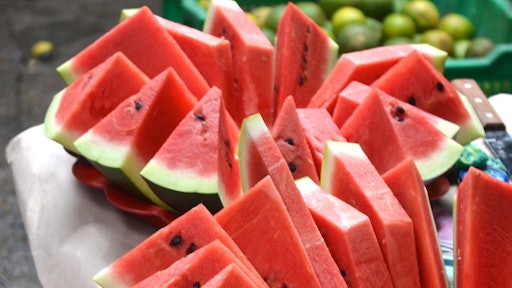 According to Produce News, watermelon shipments are below average for this time of year. However, CEO of the National Watermelon Promotion Board (NWPB), Mark Arney, expects for the number to rise as areas around the country begin to ship their products.
To support the season, NWPB is promoting to engage three core audiences: consumer, retailer and foodservice.
In a study last year by NWPB, they found that watermelon is typically consumed as a snack, and not a side dish.
To engage consumers, NWPB will introduce the "Watermelon On the Go" campaign this summer that will host a series of videos with simple, snackable and portable recipe ideas. The group will also demonstrate the many ways to butcher the fruit.
To get retailers involved in the watermelon season, NWPB is hosting its annual retail display contest. To help with construction of displays, the group produces merchandising kits available.
The company will help grow the presence of the fruit on menus. Currently, watermelon appears in one in 10 menus in the U.S., Datassential MenuTrends finds.
NWPB plans on partnering with more entertainment foodservice establishments to improve their menus.
With all the promotions, the NWPB group expects a strong year for the fruit, and the food industry in general.