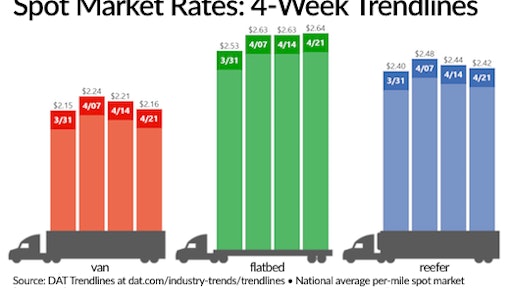 Spot market activity picked up during the week ending April 21 as the number of posted loads increased 3.1 percent and truck posts rose 4 percent. National load-to-truck ratios fell for all three equipment types which put downward pressure on national average rates for spot van and refrigerated freight:
Van: $2.16/mile, down 5 cents
Flatbed: $2.64/mile, up a penny
Reefer: $2.42/mile, down 2 cents
VAN OVERVIEW: The van load-to-truck ratio dipped from 6.6 to 6.4 as load posts decreased 1 percent and truck posts increased 3 percent. Overall van trends were balanced with rates moving higher on 47 of DAT's Top 100 van lanes and lower on 48 lanes with five lanes neutral.
Key markets:
- Denver: $1.42/mile, up 3 cents. The average Denver outbound rate is up 5.3 percent over the past four weeks
- Stockton, Calif.: $2.07/mile, up 4 cents
- Atlanta: $2.39/mile, down 3 cents due a stronger Florida market and despite robust outbound volumes
FLATBED OVERVIEW: The flatbed market remains solid. Flatbed load posts increased 7 percent and truck posts increased 8 percent as the national average flatbed rate set another record high at $2.64/mile. The load-to-truck ratio slipped 1 percent to 102.2 loads per truck to stay above 100 loads per truck for four weeks in a row.
REEFER OVERVIEW: After a 15 percent drop the previous week, the national load-to-truck ratio for reefers fell 11 percent from 9.4 to 8.4 loads per truck. Reefer load posts slipped 5 percent while truck posts increased 6 percent. As is typical for this time of year, reefer freight is highly affected by regional trends. Lanes to watch:
- Grand Rapids to Philadelphia, $3.85/mile, up 44 cents
- Elizabeth, N.J.-Boston, $4.32/mile, up 13 cents
- Ontario, Calif., to Phoenix, $3.26/mile, up 18 cents
- Atlanta to Lakeland, Fla., $3.25/mile, unchanged