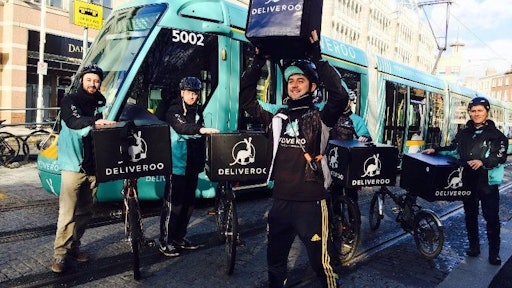 The British government has told Deliveroo, the food delivery service that last year raised $70 million for global expansion, that it must pay its workers the minimum wage unless a court rules that they are self-employed, according to The Guardian. The food delivery company, which is embroiled in a pay row with its couriers, has had its proposed wage deal described by the Labour party as "Victorian." The plans prompted hundreds of self-employed couriers to protest over attempts to pay them per delivery rather than by the hour, a move which, they say, will significantly reduce their earnings.
The Department for Business, Energy and Industrial Strategy insisted that workers must be paid the "national living wage" (NLW) of £7.20 an hour unless a court or HM Revenue and Customs defines them as self-employed. "The government is determined to build an economy that works for all – that includes ensuring everyone gets a decent wage. An individual's employment status is determined by the reality of the working relationship and not the type of contract they have signed," a BEIS spokesman said.
"Individuals cannot opt out of the rights they are owed, nor can an employer decide not to afford individuals those rights. Employers cannot simply opt out of the NLW by defining their staff as self-employed."
Deliveroo delivers food from thousands of restaurants that do not have their own delivery service. Its clients include Pizza Express, Byron and Gourmet Burger Kitchen. The company charges customers £2.50 per delivery.
Couriers, who are self-employed and provide their own transport, said the move to £3.75 per delivery, instead of an hourly rate of £7, plus £1 per delivery, would lead to uncertainty and lower wages. They are keeping up their protests and the next strike will be in Camden, north London, later on Sunday.
To read more, click here.