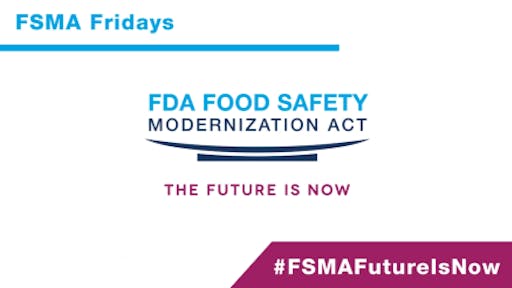 The U.S. Food & Drug Administration (FDA) will host a webinar on April 25 about the recently-announced Food Safety Modernization Act (FSMA) Final Rule on Sanitary Transportation of Human and Animal Food. The webinar will be from 11 a.m. to Noon Eastern Time.
This final rule is part of FDA's implementation of the 2005 Sanitary Food Transportation Act, Food Logistics reported yesterday. It builds on current food transportation best practices and is focused on ensuring that the individuals transporting food at the greatest risk for contamination during transportation follow appropriate sanitary transportation practices.
Registration for the webinars is not necessary.
A recording of the webinar and the presentation slides will be made available.
Kari Barrett, advisor for strategic communications and public engagement at the FDA's Office of Foods & Veterinary Medicine, will moderate the webinar.
Mike Kashtock, consumer safety officer for the Center for Food Safety and Applied Nutrition, will make a presentation on the Sanitary Transportation of Human and Animal Food.  
There will be questions and answers during the webinar.
For information about the webinar, visit this link.
Editors Insight: The long-awaited rule has been released. Many if not most companies transporting food are already doing most – if not more than – what the rule requires. Nevertheless, food haulers need to know every detail of the rule. Food Logistics released a summary of the rule yesterday. 
Most of the requirements were included in the rule's proposed version which has been available for some time.
One aspect of the rule that all food transporters need to pay careful attention to is record keeping. Companies will be required to keep records of written procedures, agreements and training.
The FDA still intends to publish some waivers.
One of the biggest uncertainties about the sanitary transport rule and other FSMA rules is how the rules will be enforced.
Fortunately, the industry has time to study the rule before compliance begins. Large companies that are not excluded from the rule have one year to comply following publication, while small companies have two years. By Elliot Maras