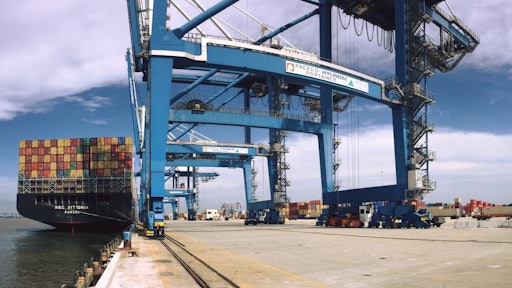 South Carolina Ports Authority (SCPA) announced an enhancement to international intermodal rail service between the Port of Charleston and the Charlotte Regional Intermodal Facility at the Charlotte Douglass International Airport.
The new, two-day Norfolk Southern service will operate five days per week connecting Charleston and Charlotte using existing dedicated intermodal trains.
"This dramatically-improved containerized rail service between Charlotte and the Port of Charleston is the result of collaboration between the Norfolk Southern Railway and the South Carolina Ports Authority," said SCPA president and CEO Jim Newsome. "It builds on the existing, high speed intermodal network between Charleston and the South Carolina Inland Port in Greer. Charlotte is most logically served via the Port of Charleston, and this link provides a very reliable rail option that has not previously existed. The Charlotte market is fast-growing and offers a very diverse containerized cargo base, including furniture, home improvement goods, general department store merchandise, and chemicals."
Containers moving between Charleston and Charlotte will ride an existing Norfolk Southern overnight intermodal train between Charleston and Spartanburg, where they will connect to intermodal train service between Spartanburg and Charlotte.
South Carolina Ports Authority (SCPA), established by the state's General Assembly in 1942, owns and operates public seaport facilities in Charleston, Georgetown and Greer, handling international commerce valued at more than $63 billion annually while receiving no direct taxpayer subsidy. An economic development engine for the state, Port operations facilitate 187,200 statewide jobs and generate nearly $53 billion annual economic activity. Home to the Southeast's deepest port, SCPA is the industry leader in delivering speed-to-market, seamless processes and flexibility to ensure reliable operations, big ship handling, efficient market reach and environmental responsibility. For more information on SCPA, visit www.scspa.com.