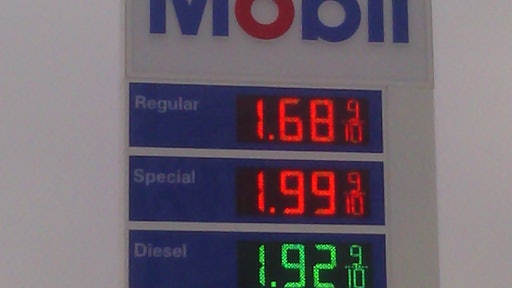 After spiking to start the year, load-to-truck ratios and truckload rates on the spot market slid downward during the week ending Jan. 16, according to DAT Solutions, which operates the DAT network of load boards.
Diesel prices plummeted 7 cents to $2.11 per gallon, the lowest national average price since March 2009, and caused surcharges to be adjusted downward. Spot rates are "all-in" rates, combining a line-haul rate and a fuel surcharge.
In the van freight market, load posts decreased 21 percent while the number of available trucks rose 29 percent. As a result, the van load-to-truck ratio dropped 38 percent from 2.7 to 1.7 loads per truck, meaning there were 1.7 van loads for every truck posted on the DAT network. The national average van rate fell 5 cents to $1.68 per mile, which included a 1-cent decline in the average fuel surcharge.
Reefer load posts decreased 26 percent and truck posts jumped 22 percent during the week as the national average reefer rate dropped 6 cents to $1.90 per mile, including a 1-cent drop in the fuel surcharge. The load-to-truck ratio fell 39 percent from 6.7 to 4.0 loads per truck.
Flatbed load volume held steady but available capacity increased 27 percent, yielding a 21 percent decline in the load-to-truck ratio from 10.5 to 8.3 loads per truck. Average flatbed rates edged lower to $1.90 per mile, down 2 cents compared to the previous week.
Spot market freight volume rebounded 15 percent in December, month over month, and truckload line-haul rates increased for the three primary trailer types, DAT reported. Compared to the extraordinary volume and rates of 2014, however, spot market indicators continued to lag.
Rates are derived from DAT® RateView, which provides real-time reports on prevailing spot market and contract rates, as well as historical rate and capacity trends. All reported rates include fuel surcharges.
Load-to-truck ratios represent the number of loads posted for every truck available on DAT load boards. The load-to-truck ratio is a sensitive, real-time indicator of the balance between spot market demand and capacity. Changes in the ratio often signal impending changes in rates.
For complete national and regional reports on spot rates and demand, visit dat.com/Trendlines. DAT Trendlines is a weekly report on spot market freight availability, truck capacity, and rates.