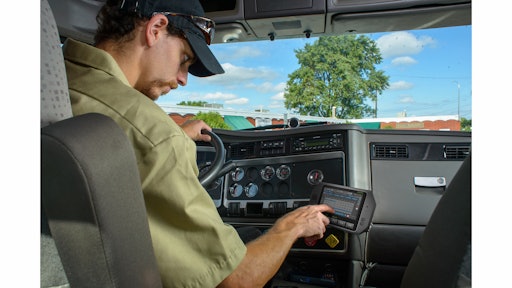 Truck drivers will have to switch from paper records to tracking their driving electronically within two years under a new federal rule aimed at making roads safer by enforcing limits on the time drivers spend behind the wheel, according to The Wall Street Journal.
The timetable set Thursday put in motion a requirement that has divided segments of the trucking industry and added to debates in trucking over work rules and driver pay. Federal regulators say the electronic logging devices will help them police rules limiting how long drivers can remain on the road, restrictions aimed at preventing fatigue and accidents.
Independent drivers argue that the electronic tracking opens them up to undue coercion and even harassment over their working hours. But many companies have already started using the digital logs—some for several years—and say they help better manage a far-flung and fast-moving workforce under highly complicated work rules.
The American Trucking Associations hailed the rule mandating the use of electronic logging devices by commercial vehicles as a historic step forward for the industry.
To read more, click HERE.
Editors Insight: The electronic logging mandate (ELD) will improve vehicle safety and it will make drivers and fleet managers' jobs easier. Many companies have been using the logging devices for years and find them helpful.
This is not to say that the mandate will come without a cost. The logging devices are not inexpensive and there is driver training required. Fortunately, fleets have time to evaluate their options and train drivers. According to reports, the mandate doesn't take effect for two years.
Some of the best-attended sessions at this year's the International Foodservice Distribution (IFDA) Solutions Conference in Phoenix, Ariz. addressed the ELD mandate. One fleet manager for a nationwide foodservice distributor noted that drivers are not typically knowledgeable about transportation laws, and the ELD ensures that they comply with these laws. 12-11-15 By Elliot Maras