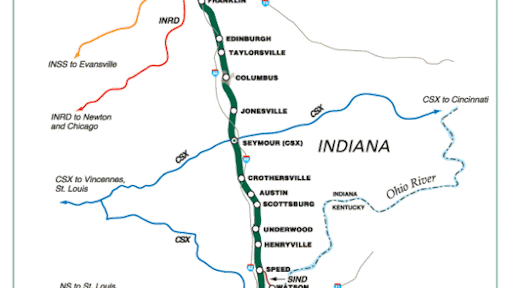 Louisville & Indiana Railroad (L&I), a subsidiary of Anacostia Rail Holdings, and CSX announced the completion of an agreement that grants CSX a permanent easement to operate over the L&I's 106-mile rail corridor between Indianapolis and Louisville.
In addition to CSX's $10 million easement purchase, the two companies finalized an operating agreement that provides for an additional $90 million in infrastructure upgrades over the next several years to improve the track structure and right of way along this key freight route. The joint project, which closed on June 17, 2015, was approved by the U.S. Surface Transportation Board in April.
"CSX's investment of approximately $100 million will provide enhanced rail access for the Port of Indiana-Jeffersonville, increase capacity and efficiency along this corridor and improve connectivity to CSX's broader network," said Oscar Munoz, president and chief operating officer, CSX Corporation. "These critical infrastructure improvements include the installation of new rail, upgrades to the rail bed structure and bridge improvements to enhance safety and service for customers in the Midwest and provide more efficient rail service throughout the region."
Over the next several months, 20 miles of new rail will be installed along the southern portion of the line. In recognition of the potential impact on local communities during and after construction, representatives from both railroads in May began a series of joint meetings with community leaders to provide project status updates and to address concerns related to public safety, anticipated increases in freight volume and construction plans.
"Since 2011, both L&I and CSX have coordinated with state and local officials to discuss the upgrade of the line to support manufacturers, farmers, marine ports and other contributors to the area's economic growth," said John Goldman, president, Louisville & Indiana Railroad. "As we undertake the first phase of construction, we will continue to collaborate with local officials to plan and execute construction activities to minimize disruptions to communities along the corridor."