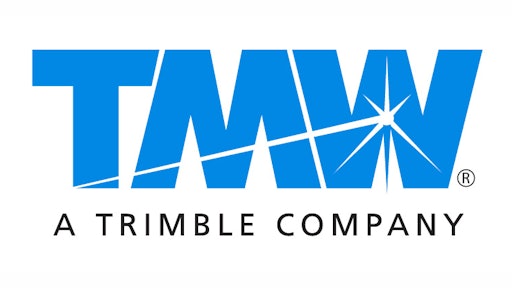 TMW Systems today announced the release of TMT First Step, a unique diagnostic and intake system that helps fleets reduce their risk from undiagnosed vehicle fault codes in medium- and heavy-duty commercial trucks. Integrated with TMT Fleet Maintenance Software, this universal vehicle data bus solution will enable fleets to identify and address the estimated 57% of their vehicles operating with undiagnosed fault codes that could impact safe operations.
According to Mike August, GM and SVP for TMW Asset Maintenance, TMT First Step transforms the haphazard processes now in use for most vehicle diagnostics and repair situations, helping fleets reduce safety risk and protect their valuable CSA safety scores. "Manual vehicle intake processes are characterized by visual inspections, driver reports and hand-written service orders. The cumbersome use of multiple, separate OEM diagnostic tools is rarely part of the process and so thousands of fault codes, both minor and critical, go unreported and undiagnosed during regular vehicle maintenance each day," he said. "Undiagnosed fault codes affect virtually every commercial fleet. Based on nationwide studies, at least 57% of the trucks that leave the shop 'fixed' still have an issue. Our TMT Fleet Maintenance Software is always innovating to support shop best practices and improved efficiency. With the introduction of TMT First Step, we've integrated a new level of visibility to vehicle health and safety to the maintenance and repair process. "
In less than a minute, vehicles can be connected to the TMT First Step diagnostic system, which takes only seconds to capture diagnostic trouble codes (DTCs) from ECU, TCM, ABS, body controller, instrument cluster and engine controller systems, even connected trailer systems, all at one time. Color-coded repair priority indicators highlight critical safety issues, such as braking system faults.
A dedicated, ruggedized tablet for the TMT First Step application makes repair triage in the yard faster and more effective, helping assign vehicles to the appropriate shop bays for repair. The wireless tablet will also transmit highly accurate vehicle identification and fault interpretation data directly to the TMT Fleet Maintenance system to generate detailed repair work orders. Powered by JPRO® Technology from Noregon Systems, Inc., the TMT First Step application, tablet and universal cable kit is available only through TMW Systems and will integrate with TMT Fleet Maintenance Software.
The announcement came at the American Trucking Association's annual Technology & Maintenance Council event. TMT First Step is in general availability for companies that diagnose and repair commercial vehicles and trailers.