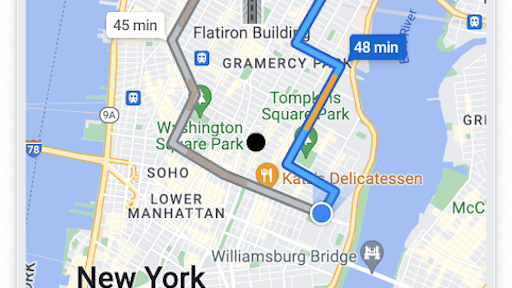 Google
Google Maps launched eco-friendly routing to help drivers find the most fuel-efficient routes using insights from the U.S. Department of Energy's National Renewable Energy Laboratory and data from the European Environment Agency. Since launching, it's estimated to have helped remove more than half a million metric tons of carbon emissions—equivalent to taking 100,000 fuel-based cars off the road.
"This means that you'll have the option to enable eco-friendly routing in your products and apps, which can help with fuel savings. You can select engine type and enable real-time traffic information to get the most accurate fuel or energy efficiency estimates when choosing an eco-friendly route," according to Google Maps.
From Google Cloud:
Google

also debuted Routes API, a performance optimized version of the Directions and Distance Matrix APIs, which provides more informative and flexible routes for users.
The new Routes API builds on the foundational features of the Directions and Distance Matrix APIs that businesses use for up-to-date directions with real-time traffic, and calculating distances and ETAs for complex matrices of origin and destination combinations.