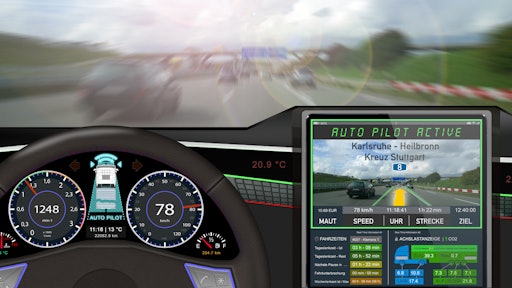 fotohansel - stock.adobe.com
When the ELD mandate came down, some fleets happily adopted. Others purchased ELDs as a cost of compliance.
Today, progressive fleets are using ELDs and telematics technology to their fullest, while others are still using for the bare minimum. The latter group is missing out, and here's why.
With the cost-per-mile average for over-the-road fleets between $2.55-$3.65, it's important to capture every penny possible. Fleets can use telematics technology to their competitive advantage rather than just a cost of compliance. It is likely that fleets doing the former will be around to compete in a very competitive landscape. And the fleets that do this the best will survive and profit the most.
How do you get the most of your current technology? Depending upon your current platform, here are a few simple ways to measure, improve metrics, decrease costs and increase profits.
1. Utilize tracking and reports
If you're not tracking, you're not improving:
· Idling. Check the idle time for trucks and contrast with the outside ambient temperature the truck can record. This data tells you who needs to be idling.
· Miles. Identify and reduce unaccounted miles. You can track planned vs. actual miles through the navigation system. By identifying unnecessary miles, steps can be taken for a reduction. The cheapest mile is the one you do not run.
· Better spec'ing. Use engine data to identify trucks with better actual fuel mileage and trucks with longer, less expensive/repair intervals. This information can help you in the spec'ing process.
· On-road repairs. Get engine diagnostic alerts and proactively address issues before costly repairs occur.
· Safety. Identify which reports and alerts you can use to track and improve safety-related activities. Reducing CSA scores can both improve your standing with customers and decrease costs associated with safety issues.
· Driver performance. Use alerts and reporting to track and measure truck and driver activities. Harsh driving, arrivals, departures, speed and activity within specified geo-fenced areas, i.e., customer sites, no-drive zones, etc., can all be tracked. Some fleets get alerts or a report each time a truck or driver enters or exits a customer site. Fleets can create nested geo-fences and track shipper delays, no enter areas, etc.
2. Benchmarking
How does your fleet compare to others in comparable applications?
Some providers can enable access to aggregated data from 2.8 million-plus vehicles around the world. These tools help measure a fleet's performance against the benchmark – that is specific to your type of operations. As your fleet improves relative to operational demographic, you become more competitive in the marketplace.
3.
Work with your telematics provider
Your best resource for what's possible is your telematics provider. Ask, "what tools in your system am I not using that could provide useful data for my fleet? What tools and tutorials exist?"
Then, have them demo their solutions as if you were a new prospect to see what you are and are not using, and those which could assist the fleet. The more innovative telematics providers will continually be adding features and functionality to their systems and a demo might shed light on how it could improve your operation and profitability.
4. Driver scorecards
Provide data to drivers using driver scorecards and have it displayed on their in-cab devices or mobile phones. Drivers want to do well and compete with one another. Competition breeds improvement. Get data that matters in their hands so they can act upon it in the moment.
Work with telematics provider to connect all relevant data to your driver scorecard, not just data that a "canned" system provides. Look at productivity (utilization), efficiency (MPG, idle time), safety (speed, harsh driving, accidents), compliance (HOS, DVIR). Also, consider adding other metrics outside your telematics system, such as:
· Did drivers scan and submit all physical paperwork accurately and timely?
· Are all driver qualification file items current?
5. Reduce paperwork; improve days receivables outstanding:
Some telematics systems allow you to digitize (scan) documents to the transportation management system (TMS) and document management system. This allows you to automate processes intelligently, and be able to automate document typing, indexing and accounts receivable and payable. Plus, it helps with document storage and quick access. Remember, paper-only systems are at risk through theft or destruction. Recent reports show many companies could fail in a matter of days if their paper processes were compromised. Keep paper as a back up if you want, but not digitizing and storing securely is courting disaster.