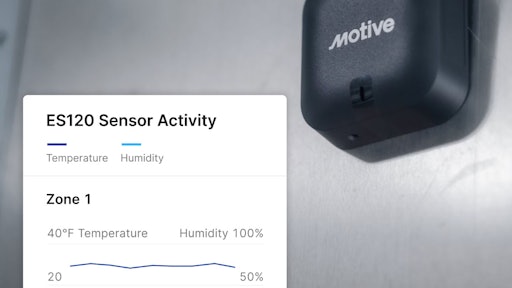 Motive
Motive collaborated with Thermo King to launch a new Reefer Monitoring solution for refrigerated vehicles and trailers (reefers).
"Our new device and the partnership with Thermo King gives our customers a single location for managing their entire operations," says Jai Ranganathan, chief product officer at Motive. "Our strategy enables our customers to access and take actions on all of their vehicles and equipment, including refrigeration units, in a consolidated dashboard within our automated operations platform. We then use the power of our AI capabilities to make informed decisions about how to get the most value out of those assets."
From BusinessWire:
The solution helps businesses improve compliance with food transportation safety requirements and reduce costs related to reefer operations.
Motive Reefer Monitoring includes a new environmental sensor that remotely monitors reefer temperature and humidity conditions in real-time. With this capability, businesses have all their fleet data on a single screen, including location, vehicle telematics and reefer insights.
The solution also makes it possible to create reefer logs for any time period on demand without the need to visit a service center, and helps fleets comply with the Food Safety Modernization Act (FSMA) requirements.