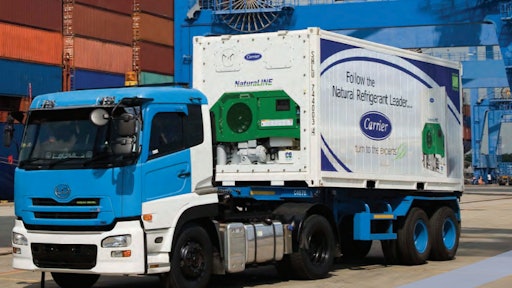 While Europe has become the testing ground for trucking applications of natural refrigerants, makers of these systems also have their eyes on the U.S., where the Environmental Protection Agency (EPA) has listed CO2 and cryogenic refrigeration as acceptable for transport refrigeration.
David Kiefer, director of sales, marketing and product management for the North America Truck/Trailer/Rail division of Carrier Transicold, Athens, Ga., said the company's NaturaLINE container refrigeration system, which it adapted for the Sainsbury's and Netto trailer tests, is proving that CO2 can be used in an energy- efficient transport refrigeration application.
"While the trailer technology is still in early stages of development, with testing currently being conducted by Carrier Transicold in Europe, it is possible that customer demand in North America would potentially be driven by regulations, incentives or performance," Kiefer said.
CO2's global warming potential of one "serves as the benchmark for environmental sustainability, which is what Carrier Transicold continues to relentlessly pursue," he said.
To read more, click here.