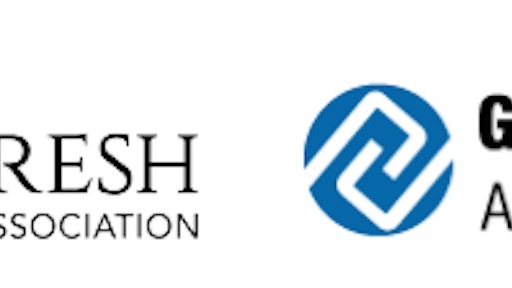 The Global Cold Chain Alliance (GCCA) and United Fresh Produce Association (United Fresh) announced the inaugural Global Cold Chain Expo, to be held in June 2016 at McCormick Place in Chicago. Corey Rosenbusch, president and CEO for GCCA and Tom Stenzel, president and CEO for United Fresh, jointly made the announcement during the IARW-WFLO convention and expo being held this week in Orlando, Fla.
The Global Cold Chain Expo will be a one-stop-shop for all cold chain needs with 25,000 square feet of trade show space featuring hundreds of exhibitors from every sector of the cold chain, including material handling, warehousing, construction, supply chain/logistics solutions and transportation providers. Co-located with FMI Connect, the International Floriculture Expo, and United Fresh, the Global Cold Chain Expo is expected to attract more than 15,000 decision makers from retail, foodservice, processing, production, distribution, logistics, and transportation. Attendees will represent frozen, refrigerated, ambient and fresh operations.
"Increasingly, the fresh produce industry is being challenged to compete with locally grown, short haul fruits and vegetables that are picked closer to ripeness," said Stenzel. "We believe the only way we can enhance quality control in our supply chain is a deep dive into the cold chain and technologies that bring our growers, packers and wholesalers closer to the consumer."
For industry suppliers, the Global Cold Chain Expo provides a competitive advantage by building brand awareness, expanding audience penetration to all global buyers of temperature-controlled transportation and facilities, and connecting suppliers to key decision makers. Their products and services will be on the world's largest stage in the cold chain industry.
"The cold chain industry has evolved – the pallet-in, pallet-out storage business of yesterday has transformed into a total logistics solution", stated Rosenbusch. "Today's customers place a higher value and priority on total cold chain solutions, no matter which industry and anywhere in the world".
As a partnership between GCCA and United Fresh, the Global Cod Chain Expo will be held co-located with some of the largest food shows in the world. The Global Cold Chain Expo is the perfect opportunity to spotlight the cold chain industry and its role as a critical component in feeding the world's ever growing population by connecting farmers and producers to consumers – all while maintaining food safety and quality.
Companies in this article