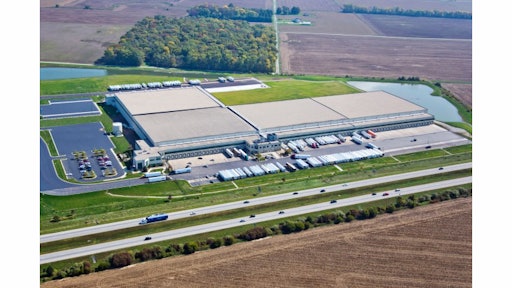 Interstate Warehousing and Tippmann Group announced an expansion project at Interstate Warehousing's largest cold storage warehouse in Indianapolis (Franklin), Ind. The 309,000-square-foot expansion will be the largest expansion at one time that this facility has ever seen, and it will add more than 48,000 pallet positions in order to provide more storage opportunities for customers.
"This is an exciting time at Interstate Warehousing," said John Tippmann, Jr., president of Interstate Warehousing and Tippmann Group. "We are so thankful for the great customer base we have at this building, and the management and staff in Franklin have done an amazing job providing excellent customer service, which has given us the opportunity to continue to grow."
The expansion also adds 54 new dock doors to the building and includes additional material handling, maintenance, machine room, electrical and office areas. Once the project is complete, the facility will sit at 885,000 square feet with more than 128,000 pallet positions.
The IWI Franklin warehouse was originally built in 2005, and has seen three previous expansions, in 2008, 2010 and 2012. Earlier this year, this facility earned a Safe Quality Foods (SQF) Level 2 Certification.
Companies in this article