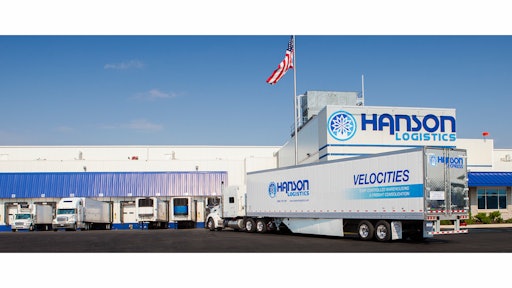 Hanson Logistics has completed its third expansion of its temperature-controlled Chicago Consolidation Center. This expansion provides additional space for the company's Velocities Multi-Vendor Consolidation program, a distribution solution for food manufacturers who need to consolidate multiple SKU frozen food orders shipping to major retail, wholesale, and foodservice DCs throughout the US. The 100,000-square-foot expansion features energy saving LED lighting, 12,000 new pallet positions and swing-in dock doors for more efficient loading times and increased food security.
The Chicago Consolidation Center now offers 11,000,000 cubic feet devoted to high-volume throughput, including -20 degrees F ice cream space, flexible racking for quick-pick consolidation, and refrigerated cross-dock staging for temperature-controlled food products. The newly-expanded Hanson Transportation Management Services and refrigerated truck fleet provides inbound, shuttle service and nationwide truckload and less-than-truckload service.
The Velocities Multi-Vendor Consolidation program encompasses Walmart's Vendor Pool 391, with scheduled vendor-shared truckloads to all major retail, wholesale and foodservice distribution centers throughout the U.S.
Companies in this article