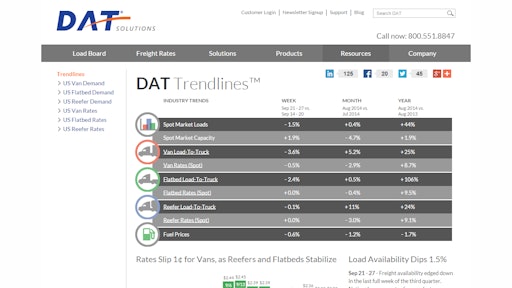 The total number of van, refrigerated, and flatbed loads posted on DAT load boards edged down 1.5 percent while available capacity was up 1.9 percent during the week ending Sept. 27, 2014, according to DAT Solutions, which operates the DAT network of load boards.

Nationally, average spot truckload rates were stable for all three major equipment types compared to the previous week.

The national average van rate lost a penny to $2.02 per mile, but remained above $2.00 per mile throughout the month of September. Looking at market demand, van freight availability was generally level (down 0.6 percent) and truckload capacity increased 3.2 percent. The resulting load-to-truck ratio was 3.0 as a national average, meaning there were 3.0 van loads posted for every van available on DAT load boards, a 3.6 percent decline compared to the previous week.

The national average spot rate for refrigerated freight was unchanged at $2.33 per mile. Rates declined in Central California and across the Midwest but gained strength elsewhere due to late-season produce harvests. Reefer freight availability slipped another 1.3 percent compared to the previous week and capacity added 1.2 percent, producing a reefer load-to-truck ratio of 8.8.

The national average flatbed rate was unchanged as well at $2.39 per mile. Load availability lost 2.2 percent and capacity remained stable (down 0.2 percent), resulting in a 2.4 percent decline in the load-to-truck ratio. That key indicator is now at 29.3 loads per truck, which is still strong for the season.

The national average fuel price fell two cents to $3.76. Declining fuel prices tend to have a dampening effect on market rates. Diesel fuel is now 17.2 cents less than one year ago. One-time rate agreements typically are quoted as "all-in" so the fuel surcharge is not broken out. When fuel prices slip, the surcharge drops and the total rate may decline accordingly.

Load-to-truck ratios represent the number of loads posted for every truck available on DAT load boards. The load-to-truck ratio is a sensitive, real-time indicator of the balance between spot market demand and capacity. Changes in the ratio often signal impending changes in rates.

Rates are derived from DAT® RateView, which provides real-time reports on prevailing spot market and contract rates, as well as historical rate and capacity trends. RateView's database is comprised of more than $24 billion in freight bills in more than 65,000 lanes.

For complete national and regional reports on spot rates and demand, visit dat.com/Trendlines. DAT Trendlines is a weekly report on spot market freight availability, truck capacity and rates.