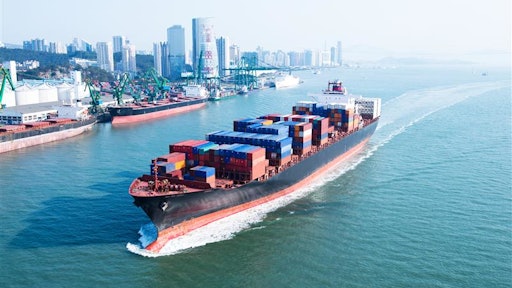 xy - stock.adobe.com
It's like a moment of déjà vu. Flashback to the beginning of 2020, when the Coronavirus disease (COVID-19) first broke out across China, further spreading to become an international pandemic that brought down businesses – and supply chains.
Now, some 2.5 years later, as most of the world is beginning to emerge from a pandemic state of mind, China has fallen back into lockdown, starting where it left off and further complicating an already stressed out international supply chain.
For starters, industry experts predict food shortages, rising ingredients costs and an overall inflated cost of goods across the board.
One in five container ships is now stuck at ports worldwide, with 30% of the backlog coming from China, according to Fortune.com. And, that's just the beginning.
Dwell time for import containers climbed 237% from 4.6 days on the first day of the lockdown to more than two weeks just before the lockdown was partially lifted on April 22, according to project44.
"Import container delays skyrocketed because those same truckers could not pick up those arrivals from the port on time," project44 says. "Moreover, breakbulk carriers moving critical raw materials for manufacturing, such as iron or copper ore, have been delayed in and around China. Shortages of these critical raw materials are having a domino effect on prices in the construction and steel industries, among many others."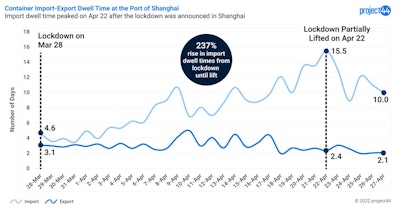 Ocean transit times between China and other ports continue to rise as well, and are expected to extend well into the next few months, project44 data says.
What does this mean for the United States?
According to James McKenna, Pacific Maritime Association president, the United States should brace for another surge in imports and supply chain delays once manufacturers in Asia reopen their factories.
"By no stretch of the imagination do we think [the supply chain crunch [is over. In fact, we're planning this to go for the entire year. There's a lot of backlog still waiting to get out of China," he adds. "The reality of the situation is that we're just overwhelmed with cargo.
What's more is, China is the world's top meat importer. The lockdown is already creating ripple effects of beef and pork exports plunging, and now with rising COVID-19 cases throughout, trucks are being rerouted and having to undergo stringent testing, creating further port congestion and other bottlenecks.
Last year, I wrote about how the supply chain may get worse before it gets better. While the United States has turned a corner, other parts of the world just keep getting hit and knocked down. How those countries recover and how quickly may determine what's next for U.S. supply chains.