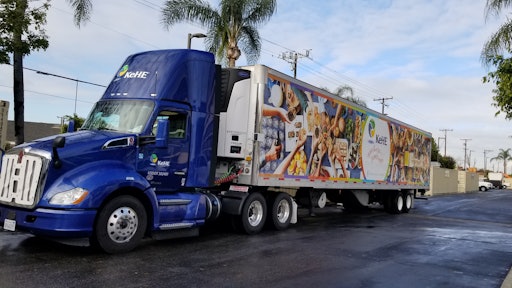 KeHE Distributors, Naperville, Ill., is one of the largest national distributors of fresh, natural, organic and specialty products to over 30,000 chain, independent and natural grocery stores in North America. With more than 5,500 employee-owners, 550 trucks and a 16-distribution center network across the continent, KeHE spreads the word on healthy eating, sustainable living and responsible business.
Impact of FSMA
In 2016, the Food and Drug Administration (FDA) issued a final ruling for the Sanitary Transportation of Human and Animal Food (STF) detailing specific roles and requirements for the transportation industry to take preventative measures against food safety risks. The STF ruling designated four supply chain roles to include the shipper, loader, carrier and receiver, each with specific requirements.
Under the new rule, KeHE classifies as a stakeholder and an actor within each of the roles. And, as with any new law directly impacting a business, KeHE examined its distribution centers to ensure they complied with the new requirements.
In doing so, KeHE benchmarked previous cold chain transport business practices to ensure alignment with the Refrigerated Transportation Best Practices Guide by International Refrigerated Transportation Association (IRTA), under the parent organization of the Global Cold Chain Alliance (GCCA), Alexandria, Va.
Cold Carrier Certified
In February 2019, IRTA approached KeHE to participate in a pilot for the new Cold Carrier Certified certification, which focuses on compliance with the STF ruling as well as excellence in refrigerated transportation. The Cold Carrier Certified designation ensures shippers and receivers that the carrier aligned their business and personnel to the highest industry standards of sanitary and safety in transportation of perishable products. (Go to page 42 to learn more about the program).
KeHE, along with six other organizations, agreed to pilot the program, and were tested on their business practices and employee knowledge, ensuring they aligned with industry best practices and standards.
The Process
The program required participants to apply for proof of conformance to the Refrigerated Transportation Best Practices, which includes examples of written documents of operational loading and transportation standard operating procedures.
Two months after the pilot, KeHE became one of the first of seven companies to receive the Cold Carrier Certified designation.
"What motivated us to become certified was that we wanted the validation that our internal documentation and processes met and exceeded the stringent guidelines for best practices set by IRTA," says Tom Hardin, corporate equipment manager for KeHE.
The certification ensures customers that KeHE aligned its business and personnel to the highest industry standards for its commitment to the safe and sanitary transportation of perishable products.
"By earning the Cold Carrier Certification, KeHE has taken a step to ensure our professional truck drivers have more education about food and food safety," says Chris Sieburg, executive vice president of operations for KeHE. "Our company is taking precautionary steps to ensure the food our suppliers create and [what] our retail partners order is arriving within food safety standards. The third-party verification further legitimizes our commitment to food safety."