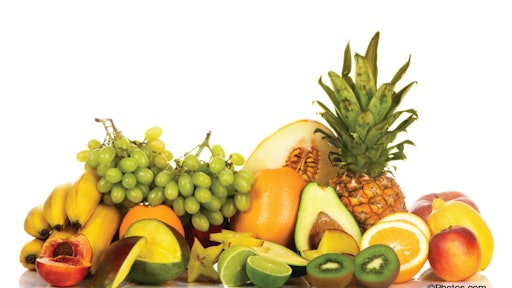 The global demand for fresh produce is growing, which in turn is impacting supply chains. For starters, demographics are shifting. The ways consumers shop, the products they're purchasing and how they are eating is changing, says Jim Lemke, president of Robinson Fresh. Lemke has global oversight of the company's fresh produce and temperature-controlled supply chain activities.
The young are driving "fresh"
"Millennials and Generation Z are asking for more fresh products, driving different global trends, and this leads to new challenges for our industry and opportunities for us all," notes Lemke. "They are talking about fresh, tweeting about fresh, and taking pictures of their every meal."
Lemke says this youthful demographic has driven a 20 percent growth in fresh categories over the last decade. "It's important for retailers, foodservice and wholesalers to address changing tastes and behaviors in order to stay relevant in an increasingly competitive environment," he adds.
Another issue impacting global fresh supply chains is the growth of an emerging middle class, with more disposable income, that demands bigger, higher quality items. Lemke says this is evident in increased interest in well-known brands from North America that people recognize, like Green Giant and Welch's, and items like large grapes and avocados. According to Lemke, the distribution supply chain has to grow alongside the growth in volume.
"In North America, we can take any order and deliver it anywhere because of our intensive logistics networks. In Asia, logistics are less mature, and managing the supply chain is a constant process as we rely on distribution partners and look for new facilities from which to ship."
Demand in China
As the Chinese middle class continues to grow in size and disposable income, more consumers can afford to add more fresh items to their daily diets. China is already the largest international market for U.S. food and agricultural products, accounting for 20 percent of all U.S. farm exports. The resulting demand for fresh is creating new opportunities for suppliers and reshaping global consumption.
Lemke also is seeing increased interest in e-commerce in Asia, and he says it represents some of the company's fastest growing business areas.
Europe likes them sweet
While normal flows of produce that occur because of seasonal shifts are ongoing and pretty consistent, Lemke says he is seeing an emerging west-to-east movement. For example, Lemke says over a decade ago, the United Starts started focusing more on sweet potatoes as a dominant commodity in restaurants because of their healthy attributes. In Europe, sweet potatoes have had massive growth rates over the last three years, primarily driven by younger consumers.
Initially, Europe looked to the northern tip of Africa for sweet potatoes, but because of product quality and increased consumption, now areas of Europe are importing sweet potatoes from the East Coast of the United States. "This has created an increased need for more storage facilities in ports on the U.S. East Coast for exports to Europe—a great example of fresh trends driving supply chain needs," Lemke points out.
Global supplements local
The local sourcing demands for produce are seasonal, with harvest schedules ranging from one week to a few months depending on the size of the grower, which in turn forces the supply chain to move around a lot. This drives additional needs for cold storage capacity in rural cities around the United States and Canada.
"The modern day supply chain has multiple channels of distribution, and in reality, when buyers can't purchase local and organic products year-round, they look to those who can offer them a consistent supply from all parts of the world as necessary," he notes.
The demographic shifts around the world that are leading to changes in consumer demand for year-round fresh produce and a global shift in supply chains is an opportunity to adopt a flexible mindset, says Lemke.
"We have to ensure we are not sitting back and resting on the predictability and consistency of our business' past. The produce industry has been around forever, but is constantly evolving, along with the distribution infrastructure, consumer demand and consumer confidence in fresh."
This article by originally appeared in COLD FACTS, a bimonthly cold chain magazine produced by the Global Cold Chain Alliance.