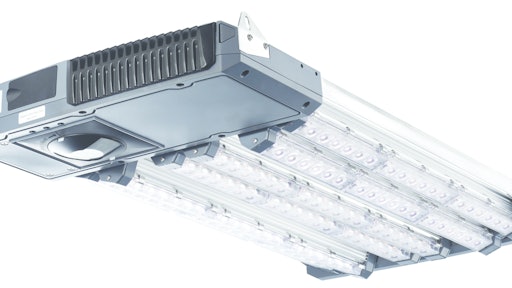 Every operator of a cold storage facility is aware of how important it is to control energy consumption—it's the second highest cost behind labor. And, costs are on the rise. According to the International Association of Refrigerated Warehouses (IARW), since 2006, the average plant's utilities costs in North America have risen by about 30 percent.
While there are multiple ways to improve a facility's energy efficiency, advancements in lighting technology have been gathering more interest lately, in part because the investment is relatively affordable when you consider the immediate and substantial ROI that results from an improved lighting system.
UK fruit importer looks to Dialight
MMD Shipping is one of the largest importers of fresh fruit in the UK. Its facility at the City of Portsmouth handles approximately 60 percent of all bananas imported into the UK. The company operates a 12-warehouse facility that receives and distributes many varieties of fresh fruit to the British market.
Over the past year, MMD Shipping has experienced a nearly 20 percent hike in its energy rates, and it was bracing for another 10-15 percent increase. During construction of its most recent warehouse, MMD Shipping began looking at LED products, as well as induction and fluorescent options, for its lighting.
It worked with Elite Renewables, an authorized distributor and installation contractor for Dialight, to test Dialight's LED products. The installation of High Bay fixtures, even at a ceiling mount height of nearly 40 feet, delivered up to 320 lux on the floor.
MMD Shipping was convinced. The company installed 134 Dialight 150W High Bays in the cold storage area and an additional 16 Low Bay units in the indoor and outdoor loading bay areas.
The upgraded lighting system provided plenty of clear, crisp light, and an unexpected benefit. Due to the LED's superior performance in cold environments, the fixtures in the cold storage actually delivered more than the advertised lumen output because of the ambient temperature of 41 degrees Fahrenheit.
Each Dialight fixture is also linked to occupancy sensors to illuminate the area only when needed. Instead of the 24/7 burn time common with other conventional lighting systems, the fixtures are on only about 30 percent of the time. This feature alone delivers considerable energy savings compared to typical metal halide or high-pressure sodium fixtures and also extends the life span of the fixture itself beyond its warranted 5-year period.
"We have been extremely pleased with the energy savings and reduced operating cost we've seen with the new Dialight fixtures in the cold storage facility," says Tim Schofield, MMD Shipping's financial controller. "In fact, we've been so impressed with the performance and warranty that we've begun retrofitting nearly all of our other facilities to Dialight LEDs to improve efficiency, lighting efficacy, and safety throughout our operations."
MMD Shipping also reports that the reduced heat output of the LEDs has helped improve temperature maintenance in the banana facility, and the lights themselves are virtually maintenance free. The company also qualified for a 20 percent tax break from the British government.
"I don't understand why everyone doesn't go LED," says Schofield. "Between the energy and maintenance savings, and the tax incentives, the switch to LED fittings was a no brainer."
Cutting energy use at Maines
It's pretty remarkable when a lighting system can result in an 87 percent reduction in energy use, yet those results were achieved when New York-based Maines Paper and Food Service, Inc. turned to Digital Lumens.
Maines decided upon the Intelligent Lighting System from Digital Lumens, which is specifically designed for demanding industrial applications. The Intelligent Lighting System integrates high intensity LEDs, sensing, networking, and software-based intelligence into a single system that maximizes light delivery and minimizes energy use.
Prior to the permanent installation, Maines and Digital Lumens conducted a pilot installation to evaluate the system in both dry and cold environments. Maines chose to retrofit its 400W HID fixtures with the Digital Lumens solution, which produced instant, high quality light when, and where needed; little or no maintenance or re-lamping; and data for Maines' management team to document energy use and continuously improve performance over time.
Maines is set to see a payback in less than two years. The company estimates it will save 1,726,108 kWh and eliminate 1,240 metric tons of carbon dioxide annually—equivalent to removing 200 homes per year from the grid.
Pat DeOrdio, vice president of operations at Maines, stated: "Our experience with Digital Lumens put to rest any questions we had regarding the use of LED-based light fixtures in complex warehouse environments. With the Intelligent Lighting System, we now have access to a long-lifecycle, low maintenance, high quality lighting source that provides the in-depth usage data we require to fine-tune our system to meet actual, versus estimated needs. The result is a smarter, vastly more efficient and sustainable solution that puts us firmly in control of our lighting, today and in the future."
SmartWatt takes an agnostic approach
SmartWatt Energy is a provider of turnkey energy efficiency solutions. "We are product agnostic," explained Ben Stewart, vice president of West Coast operations, during the recent IARW-WFLO expo in Tucson, Arizona.
The company provides whole-building energy assessments and implements lighting retrofits, variable frequency drive upgrades, control system enhancements, and more to help clients reach their sustainability goals.
Five years ago, United States Cold Storage (USCS) began benchmarking their CO2 emissions in an effort to reduce the environmental impact of the company's 35 facilities across the U.S.
As part of that initiative, USCS contacted SmartWatt Energy to perform a construction-grade energy audit and complete a value-engineered design of a new energy efficient lighting system at their Tracy, California facility.
SmartWatt opted for LED fixtures manufactured by Albeo Technologies for the project, based on their excellent performance in cold storage environments. The lighting retrofit project achieved an annual displaced energy level of 541,000 kWh, a reduction of 856,554 pounds of carbon dioxide, and a payback period of 1.6 years. In simpler terms, that equates to planting 83 acres of trees or removing 74 vehicles from the road each year. The project also saved enough energy to power over 47 homes every year.
Americold partners with Cascade Energy
In another sign of the growing importance of energy management and conservation in the cold storage sector, last September, Cascade Energy and Americold announced a three-year strategic partnership aimed at reducing energy use at Americold's cold storage facilities. Cascade's role in the partnership is to provide energy management services for 132 Americold refrigerated warehouses throughout the U.S.
Specifically, Cascade will provide monitoring, utility bill analysis, reporting, and Web-based dashboard applications. Americold also has the option to tap additional Cascade services, such as facility tune-ups, system optimization, capital studies, and coordination with local utility companies to maximize incentive programs.
"By working with the largest temperature-controlled warehousing company in the world, we have an opportunity to have a sweeping impact on the food storage and distribution industry," commented Marcus Wilcox, president of Cascade Energy. "In addition to helping Americold effectively manage and reduce operating costs and increase the energy efficiency of its facilities, we hope to inspire others to consider implementing comprehensive energy management strategies."
Sustainability as a Way of Doing Business
Bolingbrook Cold Storage, located southwest of Chicago, has been in operation only two and a half years. But in that short time, its president and CEO, Dominic Stramaglia, a veteran in the logistics industry, has expanded the company with an eye toward sustainability.
"Our customer base is made up primarily of food companies—a seafood distributor, bread processors, a chocolate company, an ice cream company—we have a variety of businesses with different needs," says Stramaglia.
The cold storage provider recently completed a major expansion, which included the addition of state-of-the-art lighting systems.
"Not only is it sustainable [in terms of energy efficiency], but the cost savings are tremendous," says Stramaglia.
Bolingbrook's focus on running an efficient operation goes beyond its lighting and refrigeration systems, however. Stramaglia happens to be a stickler on getting trucks in and out of the facility in a timely manner.
"We get the driver in within 5 to 15 minutes and get them loaded and back on the road. Time is money. We adhere to appointment times," he emphasizes.
Bolingbrook also offers EDI to customers to help facilitate cargo pickup. Currently, about 25 percent of Bolingbrook's customers use EDI, but that number is growing, according to Stramaglia.
The company has strived to keep ahead of the curve, whether it's sustainability, regulatory compliance, or other marketplace demands. Bolingbrook invested heavily in computer and software upgrades prior to the implementation of the Food Safety Modernization Act (FSMA), for instance. And, the system also helps customers control inventory on a first in/first out basis.