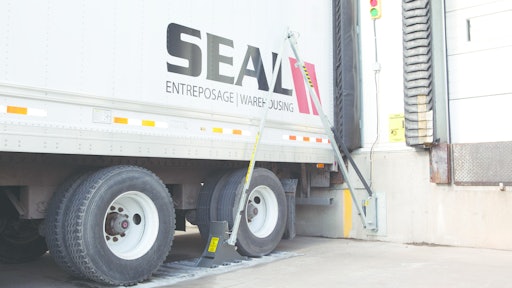 According to the Occupational Safety and Health Administration (OSHA), roughly 100 industry workers are fatally injured every year and about 95,000 workers are injured every year while operating industrial trucks, such as lift trucks. Accidents are more than likely to occur on the warehouse's dock.
There are various kinds of loading dock-related accidents. Some of the most common accidents that are caused by early departure, trailer creep, and lift trucks backing off of docks.
One of the ways warehouse workers can prevent dock-related accidents is to use the proper dock equipment, which can increase both safety and performance.
Vehicle restraints
Dock-related accidents can be prevented by using equipment such as vehicle restraint systems, which are designed to prevent a trailer from moving away from the warehouse loading dock.
GMR Safety's Powerchock System can help prevent a trailer from early departure and trailer creep. This is utilized by placing it in front of the trailer's rear tire, which locks onto a ground plate; this fits universally on all vehicles. The vehicle restraint locks into place when the weight of the truck pushes the chock teeth into the ground plate.
According to Isabelle Grenon, sales coordinator at Quebec, Canada-based GMR Safety Inc., one of the benefits of the Powerchock System is that it "has over 30,000 pounds of restraining force" and it doesn't rely on a trailer's ICC bar strength. GMR Safety's vehicle restraint is also unaffected by harsh conditions, such as snowy weather. By using the weight of the trailer, the vehicle restraint is designed to penetrate any ice and snow.
The Powerchock System can be set up with ease in less than 30 seconds, which is another plus.
Dock levelers
A dock leveler is dock equipment that connects the warehousing loading dock to the back of the trailer. Dock levelers, unlike dock boards, stay at the warehouse. Milwaukee, Wisconsin-based Rite-Hite Corp. offers something more than just an average dock leveler—their RHV Vertical Storing Dock Leveler also aids in environmental and safety control.
"Our goal is to create a safe, secure, energy-efficient, productive loading dock," states Walt Swietlik, director of customer relations at Rite-Hite. The RHV Vertical Storing Dock Leveler helps to increase dock performance by decreasing dock shock, the constant and potentially harmful shaking that occurs when a lift truck driver crosses over gaps on traditional dock levelers.
Dock shock can cause long term back and neck injuries, which can be costly to a company and for lift truck drivers. According to Rite-Hite, 21 percent of lift truck drivers suffer from dock shock. Rite-Hites' dock leveler has an extended beveled edge in order to create a smoother transition between a trailer bed and the leveler to alleviate dock shock.
There are many benefits of Rite-Hites' dock leveler being vertically stored. While the dock leveler isn't in use, it acts as a safety barrier in between the warehouse and the dock exit, which will prevent lift trucks and other machinery from backing off of the dock. This also provides an increase in security, which helps to prevent forced entry into the warehouse.
Dock seals
Dock seals are used around the exterior part of a warehouse dock to protect shipments from the weather. Rite-Hites' TP Platinum Dock Seal is a premium dock seal that is made with durathon fabric, which is a friction resistant material. Durathon fabric helps to extend the life of the dock seals by providing advanced rip strength.
Dock seals have a significant impact when transporting perishable food items since it helps maintain the freshness and the quality of perishable products in between loading and unloading.
Heat from a trailer light can start a fire on the dock seal causing incredible damage and putting workers at risk. Rite-Hites' heat-dissipation system, Firefighter protection, prevents burning caused by heat build-up.
Dock boards
Similar to a warehouse dock leveler, dock boards bridge the gap between the loading dock and a trailer. Fort Worth, Texas-based Bluff Manufacturing has a dock board that allows a lift truck driver to remain in his/her lift truck cage while setting up the dock board—this dock board is called the Speedy Board.
"Ninety percent of the accidents that occur to forklift drivers happen when they're outside the safety of the fork cage," says Andrea Curreri, vice president of marketing and sales, Bluff Manufacturing. "This board allows for one driver to stay in the cage to move the board into and out of place—no other dock board allows that."
The Speedy Board contains a notch pattern that allows a lift truck driver to safely move the dock board with ease, which increases a worker's performance.
Dock doors
Most dock doors are standard equipment that doesn't provide many benefits, other than theft deterrent. TKO Dock Doors' VertiCool Door provides more than just theft deterrent—it complements vertical dock levelers and enhances thermal efficiency.
There has been more attention recently on the dock door's ability to seal the opening, instead of relying on insulators, says Michael Brittingham, manager, marketing communications for 4Front Engineered Solutions.
The VertiCool Door is equipped with a thick foam panel that provides high quality thermal protection in order to preserve the warehouse's temperature and also keep extreme weather conditions out. This helps maintain the integrity of perishable items and shields employees from weather conditions outside.
By equipping a warehouse dock with the right equipment a company can save money, increase the safety and efficiency of the dock, and ultimately improve working conditions for warehouse workers.
Boosting Productivity with CooLift
Recently, Food Logistics spoke with Greg Ecker, vice president of sales and marketing at Magline Inc., based in Standish, Michigan, about the Magliner CooLift Delivery System.
Description: The CooLift Delivery System is a hydraulic lifting system that helps take the stress out of manual lifting. It also uses six urethane wheels that allow 360-degree maneuvering capabilities, which is beneficial to the driver.
"Drivers like it a lot because they're not as tired at the end of the day because they're not bending and stretching as much," says Ecker.
Key benefits: CooLift has the power to have four times the amount of loads on a single pallet in comparison to a traditional hand truck. Pallets are also pre-picked at the warehouse, which makes delivering the pallet much easier and safer for the driver. Pre-picked pallets can help save a company up to 32 percent of workers' compensation claims, according to Magliner.
Loading and unloading a CooLift pallet is also much quicker than a traditional hand truck. "Drivers are moving more products with fewer trips back and forth from the truck to the store," says Ecker. "They see their account time cut by 50 percent."
Companies in this article