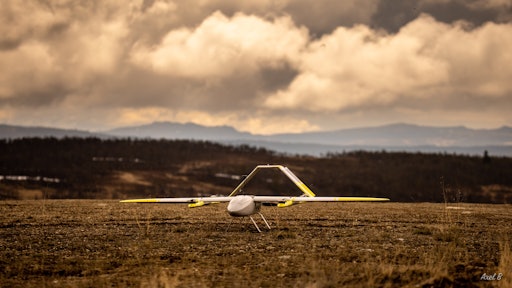 Aviant
Aviant launched its home delivery service, Kyte, now capable of delivering groceries, takeaway food and non-prescription medicines to sparsely populated areas and holiday homes in Norway.
"Our technology proved critical for rural healthcare services during the pandemic, where winter road closures meant our drones were the only link between Covid-19 test sites and laboratories in Central Norway. Now, with the launch of Kyte and our funding from Innovation Norway, Luminar Ventures, and Bring Ventures, we are able to provide people in remote and hard-to-reach areas with the groceries and medical supplies they need, directly to their doorstep, with no traffic restrictions and minimal climate emissions," says Lars Erik Fagernæs, founder and CEO at Aviant.
From Cision:
Aviant

has delivered 12 commercial contracts in Norway and Sweden, most notably transporting COVID-19 tests and blood samples between district hospitals and central hospitals during the pandemic. Since then, the company has operated over 2,500 autonomous flights, covering more than 35,000 km.

Aviant's

drones are capable of flying as far as 120 km in a straight line, similar to an airplane. The increased efficiency and speed means Kyte's delivery range is significantly higher than other airborne door delivery services, being able to deliver within a 30 km radius for return flights, compared to the 2-3 km offered by other providers.

Aviant

is certified under EU regulations to operate autonomous flights within the union.

Customers can request delivery through the Kyte app, where they can choose from various groceries, ready meals and light medicines. Once the order is placed, the drones are loaded with the ordered items at Kyte's home base before they autonomously deliver the package and return to base. So far, Kyte has made deliveries covering a distance of more than 4,000 km, with an average delivery time of 24 minutes.
"Door-to-door drone delivery has been a hot topic for years already, but most commercial attempts have been limited to small, open areas such as a single park or technology that limits the radius to 2-3 kilometers. Where plenty of companies have received initial funding, getting a commercial last-mile delivery service up and running has proven extremely difficult. That changes with Kyte. We have a large delivery radius, the permits to operate, and no requirements for pilots or spotters along the route. We are actually delivering food, groceries, and medicine by drone to people's doorsteps in Norway right now," adds Fagernæs.