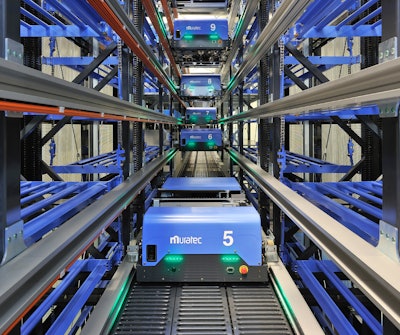 **Content brought to you in partnership with Murata Machinery**
Starting from a small town of Asian greengrocers in the 1900s, this retail and dry good grocer expanded their supermarket stores to over 200 locations, employing 20,000+ employees across an international footprint with annual sales at $6 billion. They develop original food products in pursuit of deliciousness, easy-to-purchase reliable quality, including "safety and security". They tailor their product lineups to specific regions with product development pursuing tastiness and price. Dietary habits, family needs, and age composition of residents differ slightly from region to region. From the introduction of fresh seasonal products and suggestions on how to eat to everyday life and special occasions, they offer a detailed product lineup that satisfied the needs and wants of customers.
With the skyrocketing use of smartphone and grocery e-commerce to labor shortages caused by the pandemic, the need for fast, accurate delivery accelerated this grocer's operational demands. It forced their need to expand automation rapidly and begin to identify a system that was highly customizable for future expansion. They recognized the need for more automation diversity to increase store shipments, meet e-Commerce orders, and essentially improve their fulfillment center capacity. It was also becoming more difficult to secure and train workers, requiring further automation to improve productivity and replace manual operations. Order processing and accuracy fulfillment were not meeting delivery requirements, slowing distribution, and causing operating costs to rise steeply.
Eliminating the need for multiple conveyors and manual handling maximizes throughput
The international grocer heard how Murata Machinery's high-speed shuttle system that integrated with bi-directional rail-guided shuttles could eliminate their existing manual processes and reached out to learn more. To completely control the storage, picking, and shipment orders, Murata Machinery recommended, and designed a computerized fixed-point picking, sequencing, sortation, and transport shuttle system to automate case storage, sequencing, and case and piece shipping.
The system combined a Uni-Shuttle automated storage and retrieval system (ASRS) with a SHUTTLINER, a rail-guided goods-to-persons shuttle solution designed to feed picking stations moving 3000+ cases per hour, containing 20 rows, 17 stations, and 18 levels. High-speed shuttle carts moved independently throughout 16 rows, 10 stations, and 8 stage levels of free location racks, providing storage for 30,000 cases. Goods are transferred in and out of the ASRS by a vertical conveyor, offering storage, conveyance, picking, and sortation functions that fed the SHUTTLINER, transporting cases in a small, orbital-type bi-directional loop positioned on 2-levels.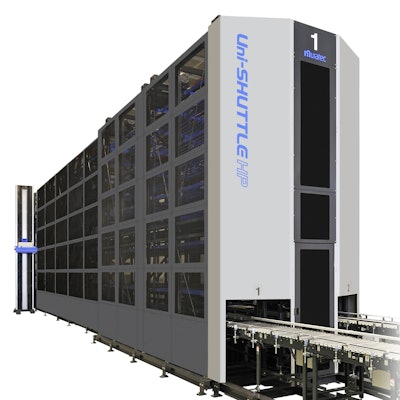 The multiple level installations provided recovery operation capability and enabled workers to perform goods picking at high speed without walking, greatly improving productivity and saving facility space. The system was equipped with standard hardware and software functions, allowing the system to adapt to various and new product characteristics including soft, lightweight cases, corrugate packaging, and conventional functions, improving the product management quality and center operations.
Compared to the conventional sorter system, the case sorting system enabled both simultaneous storage and case retrieval, controlling delivery accuracy, minimizing manpower, and maximizing space that eliminated the need for multiple conveyors and manual handling.
The requirement for handling loads of assorted sizes, the need for high-throughput operations, and the demand for small-lot production for just-in-time operations or last-mile delivery drove their need for this modern technology. Shuttles across the combined solution travel independently, allowing for easy maintenance without system shutdown and maximum throughput.
Storage is installed on both the storage side and retrieval side through the combination of Space Storage to continuously store/retrieve many loads at the same time and the high-speed shuttles that travel independently on each level, a wide variety of goods received at the same time can be efficiently stored and sorted, and group retrieval can be carried out at high speed, delivering shorter cycle times, and eliminating complex material flow handling inaccuracies.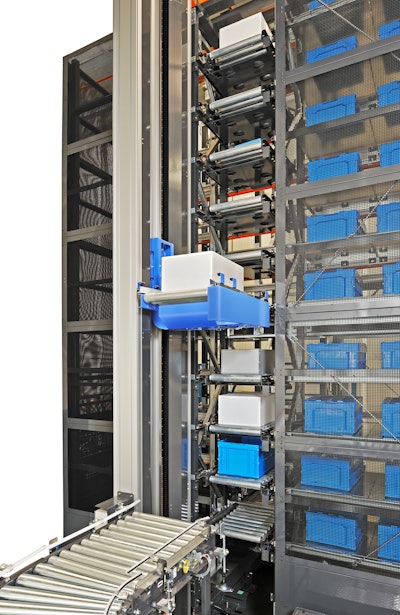 Productivity increased 60% using 2/3 less space
By integrating a multi-level storage, retrieval, and G2P system, food & beverage picking, and sorting processes increased by 60%, eliminating the need for secondary sorting and inspections. Storage capacity increased 25% while case retrieval, sorting, and sequencing order accuracy and delivery speeds improved beyond their initial goals. The integrated pick-to-light operations reduced manual sorting errors caused during mechanical inspections and required fewer personnel to operate the flow of goods. Picking workers now operate 30% over their past conventional methods and the overall system footprint used 2/3 less space.
Today, this customized system is exceeding this wholesaler's productivity goals and is being duplicated in other distribution centers across their facilities. Overall operating costs are download, labor shortage reduced, and fulfillment capacity storage at an all-time high.
Muratec will be exhibiting and conducting live demonstrations at MODEX 2022 in Atlanta, GA from March 28-31, Booth # B7632b. Book a Modex Meeting.