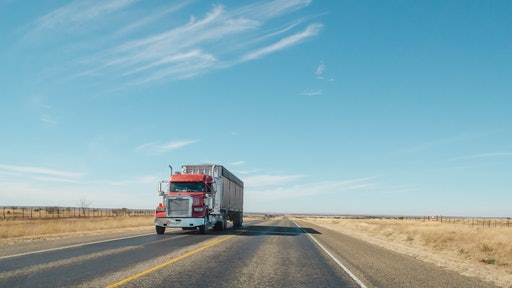 Pexels
June is traditionally a peak month for van and refrigerated truckload freight hauling food, and this year—as unpredictable as 2020 has been—has fallen in line with expectations.
Spot van rates averaged $1.80 per mile nationally in June, up 21 cents compared to May. The national average reefer spot rate was $2.15 per mile, up 13 cents month over month.
At 3.5, the national average van load-to-truck ratio for the month was the highest since July 2018. The ratio measures the demand for truckload services. The reefer ratio was 5.5. With the exception of March, when the pandemic threw grocery supply chains into complete disarray, the ratio was the highest since October 2018.
Truckload volumes and rates are on the same pace as they were at this time in 2019 and 2017, lackluster years for trucking, but "normal" ones by most accounts
However, freight conditions feel far from normal this year.
Driving uncertainty in the freight market is both the inconsistent pace of the reopening of economies on a state-by-state basis and each state following different pandemic guidelines. This means different regions will recover (or not) at different paces, thus creating a challenge for shippers and carriers in managing their freight networks.
As we move deeper into the summer and toward the fall, several important trends bear watching for food producers, distributors and retailers.
Shorter lengths of haul
Using data from their install base of 2 million commercial vehicles, Geotab reports that even though the daily volume of truck trips in the United States was down nearly 11% in mid-June compared to pre-shutdown baseline levels in February, the number of daily fuel fill-up events has increased. That's likely due to trucks running shorter trips with multiple stops, which compromises fuel economy.
Breaking the data down by truck type, the impact of the Coronavirus disease (COVID-19) on consumer buying patterns is evident by the 60% increase in light-duty commercial vehicle trips involved primarily in final mile e-commerce deliveries, including groceries.
People are shopping. They're just having more goods brought to their door from distribution centers, which changes the dynamics of trucking as companies move shipping operations closer to big population centers.
COVID-19 cases in ag markets
States are slowing their pace of reopening as new COVID-19 cases climb across the southern tier of the country where produce season is in full swing. While counties that are home to the country's largest metro areas have seen large raw numbers of positive tests since the outbreak began in March, cases per capita have spiked in agricultural areas.
In mid-June, four of the Top 5 counties for COVID-19 cases (Imperial, Calif.; Yuma, Ari.; Yakima, Wash.; and Durham, N.C.) were at the heart of major farming states, which account for 68% of total U.S. produce tonnage. The migrant nature of the workforce will become a challenge throughout the summer as workers follow the harvests north.
Since agriculture is classified as an essential service, health officials are not likely to shut down crop harvesting operations, so it's not yet clear how new cases will affect truckload volumes in the near term. If the produce industry follows what's happening with Midwest meat packing plants, then labor shortages, reduced production and truck wait-times are almost certain to follow.
Health and safety
Managing the health and safety of drivers and dockworkers is a challenge when guidance from federal, state and local authorities varies or can shift at a moment's notice. We're several months removed from the supply chain shocks of March and April, but truck fleets and their drivers are as concerned as ever about their personal safety.
This is one of those times when shippers and receivers can distinguish themselves as a place that drivers want to come to when looking for a load.
Clear communications about changes to appointment schedules and delivery windows, giving drivers a safe place to park while they wait, offering hand sanitizer to drivers who have to sign paperwork—these steps can go a long way toward keeping truckers happy and securing capacity in the future.
Truck drivers who are delayed at loading or receiving facilities because of health screenings, a shortage of lumpers or dock workers or long lines at the gate can't recoup their available work hours, which adds to the pressure on their ability to operate safely and earn a living.
Very few in the United States have an appetite for more shutdowns. As we find ourselves searching for some sort of "New Normal," there's little consistency to the reopening process as more hotspots emerge. The severity of COVID-19 outbreaks and how consumers respond will tell supply chain managers a lot about what to expect during the balance of the year.