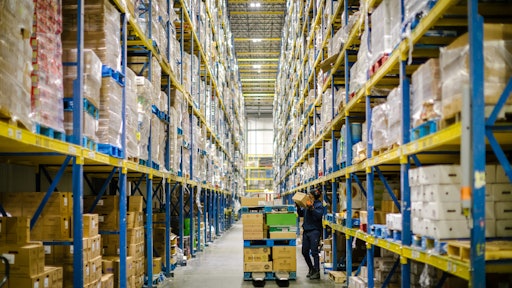 Burris Logistics
Logistics providers are stepping up their game to offer enhanced products and services aimed at meeting increasingly complex global food supply chain requirements. This includes measures directed at increasing speed, security, safety and transparency. Many of these efforts include technologies designed to make better use of data and data collecting.
Following is a look at the strategies several supply chain specialists serving the food sector are using to enhance their offerings and meet customer demand.
Responding to the Amazon Effect
Rob Kriewaldt, senior vice president at Milwaukee-headquartered 3PL Phoenix Logistics, says although the Food Safety Modernization Act (FSMA) is old news, companies are still grappling with it in terms of traceability requirements.
"We've seen a lot of customers coming to us to see if we have those traceability capabilities," Kriewaldt says.
Phoenix is deploying the latest technologies to address traceability and improve facility security. About 90 percent of Phoenix's business involves food or food packaging. Kriewaldt says the main concerns of customers involve security, traceability, cleanliness and damage prevention.
"Security is right up there as a concern, and a lot of that comes from the potential for contamination or the potential for tampering," he says.
Kriewaldt says there is definitely growing pressure to increase delivery speed. Some of this can be attributed to the growing popularity of food delivery services.
"I have been in this industry for about 25 years now," he says. "Twenty-five years ago, you would get an order on Monday and it would have to ship out on Wednesday. Fast forward to 2019, and we are now in the world of two-hour lead times. That's the norm and that's the expectation. That's what Amazon has done to consumer expectations."
Phoenix operates three facilities and also has significant leased space. Altogether, the company has more than 25 million square feet of space around the Eastern U.S.
Adjusting to the needs of individual customers can be an ongoing challenge, Kriewaldt says. One example is a firm in the Upper Midwest that is relatively new to outsourcing warehouse and distribution functions.
"We've had to change our methodology, anticipating what they are going to do before they do it, learning their habits. We have to plan ahead."
So, what is on the horizon in terms of technology? Kriewaldt acknowledges it is trendy to talk about blockchain and its potential effects on supply chain, but he says the impact will be huge.
"As consumers demand more traceability at every step of the process, it's just a matter of time before blockchain is used to track every ingredient every step of the way, just like in the pharmaceutical industry."
Kriewaldt is among those in the industry who view attracting and retaining qualified people—both at the corporate level and on the warehouse floor—as one of the biggest challenges.
Harnessing the Power of AI
Burris Logistics, headquartered in Milford, Delaware, has annual revenues in the $4 billion range and employs more than 2,000 with facilities and offices throughout the U.S. About half of the company's business is food-related. Burris increased its size and technological capabilities with the April acquisition of Trinity Logistics, another Delaware-based, family-owned 3PL.
John Haggerty, Burris' vice president, business development, says customers are looking for greater transparency, visibility and access to data. They want all of that in real time.
"We partner with multiple sources to capture data," Haggerty says. "If we do not own an asset, then we are looking at ways we can gain data and share it with customers. We also do procurement where we actually buy products and take title to goods, which many 3PLs do not do."
Haggerty says Burris' Supply Chain Portal helps address the speed issue. The portal has multiple modules for customers to use, including a produce inspection visibility tool where data is captured, including pictures, real-time temperatures or anything the customer wants. Everything the shipper and the customer wants can be presented visually.
Another Burris initiative aimed at increasing speed and supply chain agility is greater utilization of its own fleet to backhaul product.
"The minute we touch the product, it becomes our responsibility and we can better handle the receipt of the goods into our building," Haggerty says.
Current industry trends center on improving speed and gaining agility in the supply chain.
"There has been a shift from diagnostic analytics to prescriptive and predictive diagnostics," Haggerty says. "As we utilize artificial intelligence, we have decisions made in a more automated way."
Burris continuously evaluates technology. It acquires some technologies from vendors, and its IT team develops others. Much of it focuses on improving speed to market and on precision logistics. The company also creates tools for specific customers and then leverages those tools for other customers.
"Most importantly, we evaluate technologies collaboratively with our customers," Haggerty says. "It gives our customers some control, if you will, in the tools that we develop. Some of the technologies are purely IT-based and others are IT-enabled. For example, it may be a transportation technology where we need an interface developed by IT."
Haggerty says it's essential that Burris stay on top of the rate of change taking place in the marketplace and the needs of empowered consumers. There are complex issues involved in addressing the explosive demand for fresh foods.
"It's important that we are always listening to our customers," Haggerty says.
Burris is offering fulfillment services to assist companies in some direct-to-consumer operations. Haggerty says some traditional manufacturers, in addition to new companies focused solely on direct-to-consumer, are opting for this method.
"There is a great demand for scalability," he says. "They all want to grow fast."
Investing in Real Estate, Assets
Michael Lebovitz, business development director at Romark Logistics, says a major way the company provides improved customer service is by ensuring that it has sufficient real estate to meet distribution space demand. He says Romark has been developing its own facilities to address growing demand for warehouse space.
"We have built the amount of space we believe we need to handle demand," he says. "We aren't relying on other real estate owners and developers. With that comes more refrigerated trucks and trailers to meet and exceed logistics requirements."
Other areas in food where the company is working to improve things fall within its packaging businesses, Lebovitz says. Romark offers both primary and secondary packaging. As part of its traceability efforts, Romark uses the latest software to track products and monitor trends.
"We are able to demonstrate to our customers that we have ways to control the process from a food quality perspective," Lebovitz says, "and give them real-time data."
Lebovitz says the ongoing labor market difficulties across the nation has affected most businesses. Romark does what it can to attract and retain employees, but is also turning to technology to help address the challenge.
"We have been a family-owned business for close to 70 years," Lebovitz says. "We create a family atmosphere and we pay good wages and benefits. For us, being in different labor markets has forced us to look at automation in some areas."
Lebovitz says technology is not the entire answer in addressing labor shortage issues, and should only be used when it enhances a process and helps employees do their jobs better.
"Overall, labor is in a difficult position and we need to look at ways to attract and retain labor as well as technologies to support it," Lebovitz says. "We are very connected to the local communities, which has been an advantage."
Another trend of note is the effect that meal kit shipping has had on volume.
"We are shipping to almost all of the food delivery and meal kit manufacturing services," Lebovitz says. "The biggest impact in newer meals are smaller sizes, so we are seeing some SKU growth. There is more volume, but smaller packages. Overall, shipping to these customers has been nothing but seamless. It's been a big area of growth from a ship-to perspective. We are shipping more frequently to these customers. They are not wanting to hold inventory."
The Digital Supply Chain
Pittsburgh-based supply chain specialist Armada strives to stay on top of emerging technologies and trends in its quest to provide stellar customer service, according to two executives. Meredith Neizer, Armada's senior vice president of operations, says some of the latest trends related to food transportation are farm-to-fork traceability and the environmental monitoring of food products, especially perishables.
"We also have seen over the years the proliferation of digital freight solutions that systematically match freight with truck capacity as well as the continued advancement of blockchain solutions in product sourcing and traceability, Neizer says.
Armada's capabilities include warehouse and transportation solutions that eliminate and consolidate shipments for its clients' networks.
"We have created supply chain efficiencies and minimized costs, driven continuous improvement and led change management initiatives with their network stakeholders," Neizer says. "In addition, we put a lot of focus on supporting sustainability programs through the reduction of GHG emissions in freight movement and warehouse waste disposal."
Mark Ohlund, Armada's chief information officer and senior vice president, says having accurate data is a key component of the company's strategy, and Armada has invested in data quality initiatives. These include staffing a data quality team to work with trading partners to correct the data anomalies the company encounters.
"In parallel with this team's efforts, Armada is working with a data science artificial intelligence company to create a dashboard to identify large volumes of data to detect anomalies," Ohlund says. "This dashboard has machine learning capabilities extensible to other datasets we transact. It is through these efforts we are working to create more accurate data from which we can manage our clients' supply chains."
Ohlund says Armada is using its operational data to be more proactive in responding to supply chain disruptions, which are occurring at increasing rates as supply chains become more complex.
"This includes anticipating freight price increases based on statistical models we build from the data," he says. "We also build custom visualizations for our trading partners to give them greater insight into their supply chains and provide engineering analytics to optimize networks."
Armada is using augmented analytics to support the detection of data anomalies. This technology employs data science and machine learning techniques in business intelligence frameworks. Ohlund says Armada is also piloting database machine learning techniques to understand data relationships and build more rapid models to help predict disruptions.
"We are investigating robotic process automation (RPA) tools to help automate rote internal activities as well as automate and expedite responses to supply chain disruptions," Ohlund says. "We expect these tools to dramatically improve process execution and adherence as we remove the human factor. Finally, we are looking at various cloud technologies to provide 'infrastructure on demand' in the form of technology sandboxes for experimentation, flexible storage and compute power opportunities."
Ohlund notes that finding technical talent continues to be a big challenge. He says Armada strives to maintain constant awareness of emerging technologies and how they can be employed as "business enablers" for a competitive advantage.
Cold Storage Capacity, Automation
The expanding cold chain is putting pressure on capacity in the cold storage space, notes John Gaudet, vice president, business development, for RLS Logistics.
"Cold storage right now is at a premium," he says. It's not just tight at key gateway ports, but at inland locations, too.
Demand for cold storage is coming from multiple areas, says Gaudet. "We're seeing a lot of companies from the U.K. and Europe that are looking to enter the U.S. market." RLS Logistics recently on-boarded two U.K. companies, one of which is a bakery.
Gaudet is also seeing significant activity in e-commerce and direct-to-consumer fulfillment. "Everybody wants to be in this space," he says. "At RLS, we do a lot of direct-to-consumer fulfillment for our clients and it seems like every day we get one or two inquiries for this service."
RLS supports clients' direct-to-consumer business with its own staff and cold storage facilities. "It's very labor intensive," says Gaudet.
While automation addresses some of the labor requirements in the cold storage space, "it's tough to achieve complete automation" and eliminate the manual labor piece entirely, he says.
For that reason, RLS invests heavily in its employees. "We do a good job," says Gaudet. "We spent a lot of money, time and effort in our human resources department over the last four or five years and we're better at what we do. Our goal is to not only hire the right people, but retain them too."
Meanwhile, RLS is committed to expanding its fulfillment lines in the cold storage space in response to the growing direct-to-consumer business and also plans to expand its overall footprint with a new location, says Gaudet.
The logistics provider is also expanding its transportation offerings. In June, it announced temperature-controlled LTL service for orders originating in all lower 48 states to anywhere in the U.S. Previously, RLS offered temperature-controlled LTL service for orders originating in the Northeast specifically.
The new service offers complete support for clients' cold chains throughout the U.S., including LTL and TL transportation, warehousing, packaging and e-commerce fulfillment services. All RLS temperature-controlled operations are GFSI certified for storage and distribution by the British Retail Consortium (BRC), and comply with all government and USDA regulations.
Technology is another area that is advancing rapidly. Autonomous trucks will be "welcomed in the industry because we have a driver shortage and this is one way to combat it," says Gaudet.
The warehouse is also undergoing dramatic change as a result of technological advances, he adds. No longer do warehouse operators have the luxury to build sprawling facilities in the U.S. Rather, the European model characterized by highly automated, vertical space is one that is gaining favor.
In addition, RLS is providing clients with better business intelligence to improve visibility into inventory, "what that inventory is doing, where it's selling, and what the costs are, so that clients can better manage their business," explains Gaudet.
Companies in this article