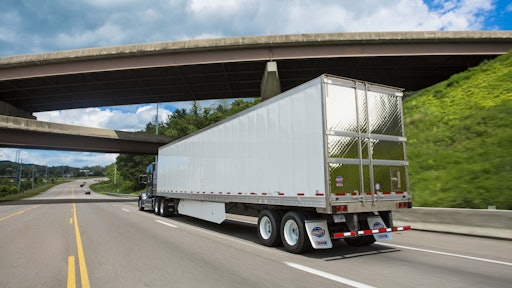 The Food and Drug Administration (FDA) says there are 48 million cases of foodborne illness annually, sickening one in six Americans. Some of these organisms can cause a miserable few hours, but others result in 128,000 hospitalizations and 3,000 deaths.
The FDA lists 16 of these organisms and, while some are generally well known, such as E.coli, salmonella and Hepatitis A, others are a difficult-to-pronounce alphabet soup of letters. Campylobacter, for instance, comes from raw and undercooked poultry, unpasteurized milk and contaminated water. Cyclospora cyetanensis, which can last for two weeks, but recur over months, comes from tainted fresh produce, including berries, lettuce and basil.
The FDA's Food Safety Modernization Act (FSMA) is designed to, among other things, ensure that proper temperatures of food are maintained throughout the supply chain. Transportation companies are responsible for complying with the FSMA's regulations, including those pertaining to temperature control, while manufacturers of reefer trailers and containers are doing their part to design and build equipment that helps safeguard food and maintain proper temperatures during transportation. 
Keep it Dry, Keep it Cold
Loss of temperature can lead to bacteria growth, but so too can moisture. In addition to sensors and other telematics that monitor temperature, engineers are working on ways to eliminate wetness from the interiors of containers and trailers. 
Chicago-based Great Dane has eliminated wood from its refrigerated trailers, says Chris Lee, vice president of engineering. "Wood acts as a wick and absorbs moisture," he explains. "For instance, composite sills and furring have replaced the use of wood as support in the construction of our Everest reefers to help eliminate rot and moisture absorption. Also, all of the floors, gutters and sidewall flashings on the Everest are fully welded, which provides a 'bathtub' style floor assembly that facilitates frequent washing of floor surfaces." 
Great Dane also developed two new linings, PunctureGuard and ThermoGuard, to resist moisture and loss of efficiency due to foam outgassing. PunctureGuard, Lee says, provides nearly three times more adhesive strength to help fight against the separation of layers while ThermoGuard helps maintain insulation performance for the life of the trailer. 
Craig Bennett, senior vice president, sales and marketing, at 104-year-old family owned Utility Trailer, agrees, adding that proper maintenance and cleaning are also important.
Utility's lining is the only FDA approved reefer lining. "Utility's sidewalls, roof and front walls are made of thermoplastic material," says Bennett. "It's not porous. Those that are more porous require additional layers and coatings on the linings to measure up the low porosity rating of our thermoplastic linings." 
Utility's unique foam mandrel with foam-in-place insulation ensures a two- to three-inch foam package completely surrounding the interior of the trailer, including joints and corners, resulting in a 100 percent void free foam envelope that delivers optimum thermal efficiency as well as lower fuel costs. 
"You want to keep the trailer at 120 BTUs when it's new and maintain it as long as you can," Bennett explains. "The complete foam lining helps that." 
Bennett mentions three key areas of the trailer that must be watched: the front wall, behind the air return and the bulkhead. The air return in Utility's trailers is hinged, allowing the mechanic to easily reach and clean the coils where bacteria can grow. 
Other Utility innovations on its 3000R trailers include barrier rear doors of bonded foam designed for less heat loss and greater durability; lining corner closures made of extruded aluminum encapsulate the adjacent lining for greater protection against moisture intrusion in the foam insulation; and low conduction thermal barriers that reduce heat transfer for greater thermal efficiency. 
At Wisconsin-based Stoughton Trailers, the PureBlue reefer trailer is designed with a liner composed of a closed-cell material that does not allow bacterial growth, explains Ted LeRoy, product manager. 
"Our PureBlue refrigerated trailer design, utilizing composite materials, helps improve and maintain thermal efficiency of the trailer itself, which in turn helps keep the food at the optimal temperature." 
In addition, Stoughton uses bonded side posts that reduce the number of holes in the sidewalls to aid in preventing moisture intrusion into the trailer. Composite framing used in the front wall and rear doors optimizes thermal efficiency and reduces overall weight, allowing more product to be carried. 
Don't Let 'em Grow
Microban International, a global leader in antimicrobial, odor control, and surface modification technologies, has developed a very effective innovation for food transportation. 
Great Dane is using this antimicrobial technology in the liners of its Everest reefers and Alpine truck bodies. Microban is built into the ThermoGuard or PunctureGuard linings during the manufacturing process. Lee says that it will not wash off or wear away for the entire useful life of the trailer. 
Microban developed the antimicrobial technology in consultation with Great Dane's engineers so they could better understand the product being treated, including Great Dane's manufacturing conditions and processes, as well as the grades and chemical identity of the reefer materials used, explains Ivan Ong, vice president of research and development at Microban. 
"A key consideration is that the selected antimicrobial is fully compliant with the U.S. EPA regulations for specific end-use applications. In the case of the Great Dane reefers, the antimicrobial is approved by the EPA for food contact applications." 
The reefers, he adds, receive frequent quality control checks to ensure that the incorporation is in compliance with engineering specifications and process controls. 
What the Shipper Needs
Trailer specifications have to be configured to meet the customer's needs based on their operations and the different foods they haul, including dairy, frozen and chilled products. This also applies to pharmaceuticals and other products that require a range of specifications, including temperature control, accessibility, compartmentation, structure reinforcement, damage resistance, moisture control and water tightness. According to Chris Lee, Great Dane works with customers on an individual basis to design equipment with the features and options they need to best suit their operations. 
Whether its food, pharmaceuticals, or other commodities that require a controlled temperature environment, different products can be subject to different forms of bacteria, so Microban offer 25 antimicrobial chemistries that are matched to both food and non-food applications, points out Glenner Richards, director of microbiology and analytical laboratories at Microban. 
"All resultant antimicrobial technical solutions are fully compliant with the governing regulatory bodies of the relevant countries," she explains. "Our team consistently tracks global regulations that impact the industries we serve." 
For instance, "As manufacturers in the food industry seek to identify proactive measures that improve compliance with FSMA regulations, we will continue to innovate in this area. We believe built-in antimicrobial product protection supports cleaning and hygienic measures and is a valuable part of a systems approach to manufacturing cleaner products and equipment for the food service industry." 
Unlike many other antibacterial products, Microban's offering does not allow bacteria to mutate and adapt, which is an important differentiator. 
"The antimicrobial ingredient that Microban uses for Great Dane's reefers is very different from antibiotics," Ong says. "The antimicrobial inhibits bacteria growth via numerous mechanisms instead of the single targeted mechanism of antibiotics. Unlike antibiotics, antimicrobials for these applications are carefully chosen to be wide-spectrum in their effectiveness. What this means is they affect a broad class of microorganism, such as E. coli, salmonella, and staphylococcus, instead of narrow, specific classes of bacteria."
Barry Hochfelder is a freelance journalist who has covered a variety of industries in his career, including supply chain. He also served as the former editor of Supply and Demand Chain Executive. Hochfelder is based in Arlington Heights, Illinois.