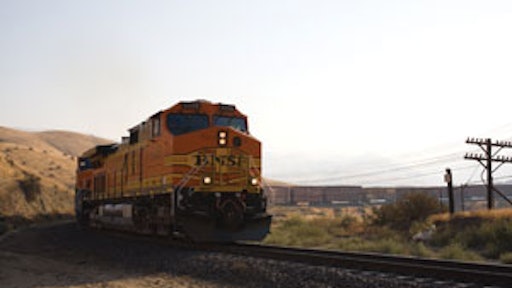 Both the railroad and trucking industries have kept cold-chain food shippers on their toes over the last several years. Constantly tracking the most cost-efficient and reliable transportation modes, food producers have been switching to and from rail and truck, depending on which mode offered the most attractive pricing, guaranteed capacity and guaranteed delivery schedules.
Despite the ongoing challenges inherent in either mode, shippers today are taking a closer look at boxcar. The days of setting your pocket watch to the local rumbling boxcar train may no longer be a part of Americana, but this is good news for cold-train boxcar shippers. We caught up with boxcar providers offering reliable transcontinental transit times that compete handily with truck offerings. We also found food producers who couldn't be more pleased with their refrigerated boxcar component.
Fresh Trends
Although rail and truck have had their share of sibling-like jealous competition throughout the years, it remains a fact that either couldn't exist without the other in getting food products on local supermarket shelves in a timely fashion. Even the most notably advanced rail program providers acknowledge the trucking industry's prominence in their respective supply chains.
However, it's no secret rail providers are attracting more customers these days. "The pendulum is definitely swinging back to where rail is back in fashion," notes Don Newton, recently retired manager of rail operations for J.R. Simplot, with over 25 years' experience in the rail industry. "The demand for rail continues to increase because of trucking's problems with things like fuel surcharges, driver shortages and the latest HOS (Hours of Service) regulations."
Despite the new interest in boxcar, challenges still persist. "With the pendulum favoring rail, there's more demand than the four U.S. and two Canadian Class I railroads can service and they say the only way to curb demand is to raise prices, ostensibly because of fuel prices and rail upgrades," continues Newton.
As more food shippers embrace the benefits of boxcar transport, railroads are getting picky in choosing their customers. "This trend will probably last several more years," notes Newton. "If you are doing rail now and have done rail for some time, you are kind of grandfathered in. However, if you are a new shipper thinking boxcar looks good, you might face hurdle rates. They are in a very high-profit mode now into the foreseeable future."
In an attempt to redefine which customers rail wanted to serve--and the marginal customers they wanted to price out of the market-double-digit increases were common throughout 2004 through 2006, Newton reports. Things are now back to "normal" single-digit rate increases and railroads are hiring personnel and purchasing engines. But they don't have enough refrigerated boxcars and have placed the responsibility of providing them on the shoulders of shippers.
"The industry believes it can increase the service velocity of its trains by increasing the overall physical plant," explains Newton. This means upgrading rails and implementing double or triple tracks in some areas. "The model over the last two years has been to increase velocity-or the speed of their actions-meaning they free up equipment without having to buy new equipment, which makes a lot of sense."
It works like this. Say a company has a boxcar it needs to ship to the Midwest and it takes 30 days to ship and return it. This is meeting demand for that company.
However, if the company ships it to the same place and brings it back in 15 or 20 days, it can make twice as many trips. In addition, it has covered its demand while having its equipment available for future demand.
Newton reports although this approach is working, the demand for refrigerated equipment has not yet stabilized. "Shippers overall are not really having severe shortages at the moment, but this year's fall crop is not in yet, so we will have to wait and see what happens."
He adds railroads are alerting their shippers to prepare for possible shortages and, if possible, to get hold of their own equipment because this might be the only way shippers and the railroads will get through the fall season.
Meanwhile, trucking companies (with available capacity) perceive this as an opportunity to win back some rail customers by offering better rates and deals in certain geographic areas. So the seesawing balancing act continues.
Collaboration Among Shippers
Although it is still a new concept, collaboration among non-competing shippers has been getting a lot of attention as shippers develop these kinds of initiatives on their own because the rails are not.
The way it works is a shipper from one part of the country contacts a shipper in another part of the country to determine if they have transportation synergies they can use for mutual benefit. "For instance, Tropicana in the Southeast might want to improve their market position in the Pacific Northwest," explains Newton.
They might contact a company like J.R. Simplot so each company can use its own private fleet to get to the new geographic market. "If Tropicana has 10 railcars going to the Pacific Northwest and Simplot has the same number going to the Southeast, each company would need only five cars to meet their demand, thereby having an additional five cars each as they double the size of their fleets."
Using a model like this guarantees equipment availability and costs less because railroads offer better pricing because they don't have the burden of finding and using railroad equipment. "You have to be big enough or diverse enough to set aside personnel assets to implement a program like this," Newton adds. This model would allow private shippers and railroads to achieve 100 percent utilization of their respective equipment.
Cool Technology Improves Service
New reefer car technology offers visibility into real-time car location and temperature, giving shippers that added sense of security. "We are dealing with higher dollar food commodities when customers put four truckloads of product into one railcar," notes Dwight Price, director of sales and marketing for Owings Mills, MD-based Cryo-Trans Inc., a manufacturer and railcar leasor.
The company's fleet doubled in the last year and now numbers nearly 900 refrigerated boxcars. Its merchandise service offers cross-country transit times of 10 to 14 days to a freight-forward warehouse, where products are trucked to their final destinations.
"Our reefer units are equipped with two-way GPS systems, so the cars are satellite-monitored 24/7 and we know their location at any given time," Price says. "We can also control the temperature of the units remotely. Product tracking ensures product quality on arrival."
Reefer temperatures can be set anywhere between –10°F to 80°F, so the reefer can be a cooler, freezer, or heater. For instance, certain confectionery products need to be maintained at an even 60°F and cars carrying these products are heated as needed.
Do The Math
Heavy food products, like jars of mayonnaise, have an advantage over light products when shipping by boxcar. "You reach your maximum weight sooner when you ship by truck and you don't cube out the vehicle," explains Lou Trentacoste, vice president of logistics for Alliance Shippers Inc. in Englewood Cliffs, NJ.
Transportation costs per product unit go down when you can fit more products into a boxcar over truck.
Shippers should consider several elements when considering boxcar, says Trentacoste.
"Companies might look at boxcar as an alternative mode in their transportation mix depending on how they value inventory and inventory carrying costs, how sensitive the product is, how fast to market from their manufacturing facilities they have to ship their products and lastly, how successful they are at forecasting."
Boxcars carry more lading than ever before. The standard for many years was the 50-foot-long boxcar. Cryo-Trans has been among the pioneers in designing and building larger cars, notes Price. "Now our reefer boxcars are 64 feet long and we were the first to introduce the extended-height reefer boxcar into the business. The 72-foot-long reefer boxcar easily holds four truckloads of product. The more lading the car can hold the greater are the economies of scale for our customers."
Historically, boxcar transportation has been less expensive than either intermodal or truck, but the spread has lessened lately. Although boxcar transit still offers savings, it does not offer the significant savings it once had, says Trentacoste. "Railroads have increased the cost of their boxcar transportation significantly in the last two years."
He adds the overall savings using boxcar over intermodal can be as little as five percent or as much as 25 percent, while the savings over trucking could be 10 to 30 percent.
As milk production shifts to California and the Southwest, the supply chain for the dairy industry is longer than it's ever been. "California is now the biggest producer of cheese, surpassing even Wisconsin," notes Price. "The dairy industry is taking a hard look at using more boxcar in shipping finished dairy products back east, where the major consumer markets are. There are more finished dairy products being shipped by boxcar that hadn't been before."
Price adds confectionery and chocolate manufacturers are considering boxcar, especially since the recent trend in the business has been outsourcing more production to Mexico.
Rail shippers report a rise in requests for sustainable shipping. "Three-dollar-a-gallon diesel gets people's attention and the higher the price of oil, the more the savings gap between rail and truck," says Price. Rail is about three times more efficient than trucks in terms of higher fuel economy and less greenhouse gas emissions.
With long-haul trucking losing favor among truck drivers, trucking companies are collaborating with railroads to produce shorter and more regionalized routes that allow drivers to be home at day's end. "Intermodal refrigerated services accounts for a small percentage, but I see that segment growing in the near future," Newton says.
It's All In The Planning
Effective use of refrigerated boxcar is really all about planning intelligently. Allowing for longer transit times is one adjustment companies can make in their supply chains to make the shift efficiently, Price says. Benefits include economies of scale, sustainability and capacity savings in diversifying transportation modes.
"Boxcars are not as demanding as truck, in that you have time to unload and load again. Whereas, with truck you have about two hours to load in order to escape having to pay detention fees. In an ideal warehouse, you can unload trucks during the day and have your night crew load and unload boxcars at night, thereby creating labor efficiencies."
When Trentacoste was purchasing logistics services, he chose a mix of services. "It's a constant balancing act. I knew that part of my transportation would have to go on truck for emergencies and I also knew there would always be some forecast that would be wrong. I put as much as I could in boxcar to achieve better cost savings."
As a full-service logistics company, Alliance offers customers transportation alternatives, including intermodal and truck; it owns 1,500 intermodal reefer trailers.
Several years back, the move from rail to intermodal and truck was fashionable, as the food industry was dealing with smaller order quantities. "But the pendulum is starting the swing back and more companies are not only looking at boxcar, but they are switching to boxcar," Trentacoste notes.
Companies that kept and maintained their sidings over the years have an additional advantage in that they are in the catbird seat, adds Trentacoste. "If your manufacturing facility has a siding, you can unload a boxcar on it, which saves money because you don't have the extra handling and extra cost of putting it to truck over a cross dock."
New Services Take Hold
The latest boom in the industry is helping shippers cope with constraint challenges. Companies like Railex actually manage the logistics piece from farm to supermarket shelf.
"Companies like Union Pacific Railroad really took charge by packaging services to move products across the country as efficiently as possible," says Paul Esposito, senior vice president of Railex USA, headquartered in Riverhead, NY.
Although the service is new to the industry, Railex's founder-Andy Pollack-is no newcomer. Pollack has been in produce distribution since graduating from Cornell's agricultural program and he is a third-generation potato farmer whose frustration with long boxcar transit led him to start Railex.
"But at Railex, we take this idea one step further," says Esposito. "Even though the railroads were trending that way, transit times for refrigerated produce was still not fast enough. We believe that conversion from long-haul truck to rail was not only good for the industry, but good for the environment as well."
Railex negotiated with two Class 1 railroads: UP in the West and CSX Transportation in the East. It built the infrastructure to load, ship, receive and then ship again an entire trainload of 55 refrigerated boxcars (the equivalent of 200 truckloads of produce) carrying refrigerated products in one cycle. Trains leave Wallula, WA every Thursday and arrive in Rotterdam, NY, every Tuesday.
"The major growing area in Washington State was really feeling the angst of conventional rail services," continues Esposito. "With our services, shippers can get guaranteed transportation from the Pacific Northwest to the highest consumption area in the Northeast, all within a period of 124 hours or less. In just under a year after we began operating these services back in October of 2006, we've proved to the industry that this is the correct model."
Products arrive by truck to the 200,000 square-foot Wallula facility, housing six separate temperature-controlled rooms. The facility is built on a 2.5-mile loop track, which means the train never uncouples while loading.
"We load while it's intact and inside the building on a dock with just the right temperature required for particular food shipments," explains Esposito. "We are not affecting the temperature of any commodity brought into the building." All cars are pre-cooled before they enter the building.
The facility has dedicated rooms for products like onions, potatoes and apples. On both the north and south sides of the building, Railex runs large fans specifically for onion freight so onions have a continual flow of air on them as they await loading onto a train to prevent damage due to moisture-causing mold.
"We use a racking system so no pallet sits on top of another pallet, allowing a continual airflow in boxcars carrying onions," says Esposito. "We really drilled down to minute levels to protect products as they travel cross-country." [See sidebar, page 33].
The onion industry had traditionally moved product by rail only during certain times of the year, notes Esposito. "Our guaranteed transit times and the way we hold onions by controlling temperatures and keeping the humidity low puts us in a position to allow customers growing red and white onions to ship by boxcar."
Trains stop only six times during the transcontinental journey to change crews and once to fuel up so there is no coupling or uncoupling, eliminating jostling of shipments, reports Esposito. Trains are tracked via GPS for both location and temperature and every train is monitored by UP, CSX and Railex.
"In addition, each of our customers has Web access to their inventory from the moment it's received into Wallula right through to final destination," says Esposito.
The 200,000 square-foot Rotterdam facility has 10 different temperature-controlled rooms. Products move by truck from the facility, delivering primarily within a 250-mile radius. Recently though, the company has been experimenting with a longer reach south to North Carolina and West Virginia, west to Indiana and even north into Toronto and Nova Scotia.
Customers need not worry about consolidating loads or moving products in LTL capacities because Railex owns the origination and destination locations, explains Esposito. "This model allows shippers to enter markets they had never been able to get to before."
On the westbound return trip, Railex moves Tropicana Juice, Anhueser-Busch Beer and imported fruits.
Esposito reports the company plans to open facilities in California, Florida and the central region of the U.S. so more unit trains can pick up from and deliver to more areas throughout the country.
"There will be a controlled lane of transit running from California to New York; from California to Florida; from Washington State to upstate New York; and from Washington State to Florida on a continual basis-with guaranteed product starts and guaranteed product arrivals throughout the country," says Espositio.
These expanded services will begin within two years and once Railex begins operating in California, it plans to move lettuces of the world and other sensitive leafy greens.
The model Railex brings to the industry is called freight forward positioning, which means West Coast shippers can have their inventory on the East Coast within only a day's drive (short-haul truck) from their customer base.
"This is a big benefit for our customers, because there are minimal breakdowns in short hauls," Esposito says.
Certainly on everyone's mind these days is how to keep transportation as green as possible. "Every train we run saves 5 million gallons of diesel fuel annually," reports Esposito.
"And for every train we run, we reduce 85,000 metric tons of carbon dioxide emissions over running the same number of trucks in that lane."
Companies in this article