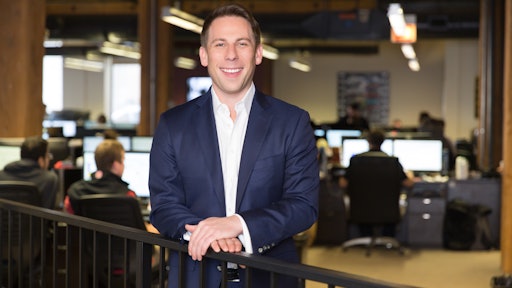 Historically speaking, the supply chain industry is slow to adopt systemic change. Whether it's technological advances or shifts in our infrastructure, supply chain businesses tend to resist evolutionary forces rather than ride the wave of innovation. This year, several political, economic and service-related phenomena have reached a boiling point. From new federal regulations, to innovation in customer service capabilities, our industry is now changing more rapidly than ever before. To survive, smart shippers, carriers and brokers will need to push through their hesitation and adapt quickly. The following trends are ones they cannot ignore if they want to be successful in 2017 and beyond:
1) ELD mandate preparations must be top priority—for both carriers and shippers. The electronic logging device (ELD) mandate's December compliance date is rapidly approaching. This month, the U.S. Supreme Court refused to hear the latest appeal by the Owner–Operator Independent Drivers Association. After years of legal battles regarding driver privacy, the costs of implementation, and the efficacy of Hours of Service (HoS) laws, many see this as the final nail in the coffin for those still contesting the legislation. More than ever before, maintaining (or achieving) compliance must be top of mind for both shippers and carriers. Though economic or technological barriers to compliance have largely diminished due to ELDs becoming less expensive and more user-friendly, many carriers still are waiting to purchase and install them. They may be waiting to act for one of the following reasons:
They are waiting to see which ELD technology becomes the "go-to" in quarters three and four.
They are waiting for less-expensive options to emerge.
Few shippers are requiring compliance before the deadline.
Shippers may not realize that the ELD mandate will put some independent trucking companies out of business, and thus, truckload rates could increase by up to 20 percent due to reduced capacity on the road. Further, strict enforcement of HoS also will impact on-time deliveries, making internal operational optimization critical. To ensure that their carrier network and supply chain is prepared ahead of the compliance deadline, shippers must do the following:
Send out carrier surveys to gauge compliance.
Analyze their manufacturing and distribution footprint to see if and how they can mitigate impact with more regional distribution centers (DC) and plants.
Position themselves as "shippers of choice."
Assess effective drayage and intermodal options.
Speed up loading and unloading to reduce dwell time.
Focus on drop trailers to avoid high accessorial charges and tight schedules.
Create more space at their facilities to accommodate drivers, so that they can sit without running their HoS clocks.
Time is of the essence. Taking the above steps now will prevent costly service failures or missed deliveries come December.
2) "Shippers of choice" have a real competitive advantage. Rising gross domestic product (GDP) is good news for everyone, but with that comes increased demand for freight capacity. Industry analysts predict that capacity will tighten by 5 to 15 percent in the second half of 2017. As Baby Boomer drivers exit the workforce and the driver shortage intensifies in the coming years, shippers will compete for the best capacity options, and those positioned as "shippers of choice" will be the most successful. Smart shippers currently are revising accessorial schedules, speeding up load time, and requesting carrier feedback. Shippers who focus on collaboration and relationship-building now will attract and retain the best carriers and prices in the future.
3) Amazon will continue to redefine the meaning of customer service. Amazon, the retail behemoth that has transformed e-commerce over the last decade is now the largest distribution company in the world. Experts estimate that in the next five years, 15 percent of all retail will be e-commerce, and Amazon will command half of that.
Amazon has generated billions in revenue by allowing their customers to have their cake and eat it too: unlimited products, quality service, fast and inexpensive shipping, and more. The company continues to challenge the industry through their introduction of drones, self-driving cars, and smart shopping carts and shelves in their new physical stores. Most recently, their $13.7 billion acquisition of Whole Foods Market has the potential to turn the food and beverage retail industry on its head.
The company's influence is felt acutely in the supply chain in what has been dubbed the "Amazon Effect." As the company gains more market share and more influence, business-to-business (B2B) buyers will come to expect the same level of visibility they would get when purchasing an item for themselves on Amazon. We likely will see more technology platforms that enable these capabilities in the futur
In 2017 and beyond, changing consumer behavior will push the logistics industry toward more sophisticated technology and heightened customer service requirements. Shippers who wish to survive need to live by the old adage: "Do something today that your future self will thank you for." With the ELD mandate and driver shortage on the horizon, shippers who adapt to the shifting logistics landscape now will reap the benefits of satisfied customers and a compliant carrier base when capacity tightens in the future.
A recognized leader known for his passion for logistics, CEO Robert Nathan co-founded LoadDelivered, a temperature-controlled third-party logistics (3PL) provider, in 2008 at age 25. Since inception, LoadDelivered has achieved 2,580 percent revenue growth, earning them a spot on the Inc. 5000 list of the fastest-growing private companies in the United States for five consecutive years. The company was also in the top 10 of Crain's Fast 50 list in 2014 and 2015, and on the Food Logistics' Top 100 3PL and Cold Storage Provider list for three consecutive years. Most recently, LoadDelivered was honored by Food Logistics' as a Top 100 Software & Technology Provider in 2016.