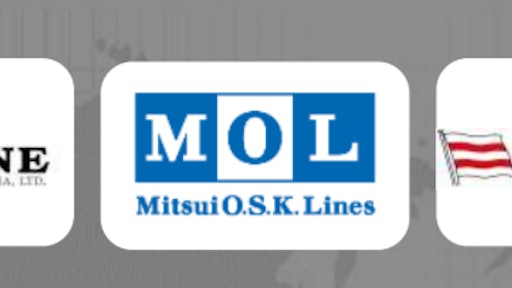 In another sign the global shipping industry continues to get rocked by the bankruptcy of Hanjin Shipping and the economic fallout from reduced global trade, Japan's three largest shipping companies agreed on Monday to merge a major portion of their businesses, saying they needed to join forces to survive.
"If we don't want the number of Japanese shipping companies to be zero, we need to create one strong, splendid company," the president of Nippon Yusen, Tadaaki Naito, said at a news conference.
By combining their container operations in a joint venture, the three companies — the others are Kawasaki Kisen Kaisha and Mitsui O.S.K. — will create a business worth about 300 billion yen, or $2.9 billion, according to a news release. It will operate 256 ships, representing about seven percent of the global market by container volume. Kawasaki Kisen and Mitsui O.S.K. will each own 31 percent of the new company, while Nippon Yusen will own 38 percent.
They said they expected combining their fleets to save about ¥110 billion per year. The deal is expected to be complete by July 1, with operations beginning in April 2018. The companies' bulk-shipping lines, which transport cargo like grain and iron ore, will remain independent.
The global shipping industry has struggled with a soft global economy, which has reduced both the amount of consumer goods traded around the world and the prices that shipping companies can charge. The 2008 global financial crisis hit trade volume, and trade flows since then have been weaker than expected as Europe muddles through debt problems, the United States experiences a soft recovery and China's heady growth rates slow.
To read more, click here.