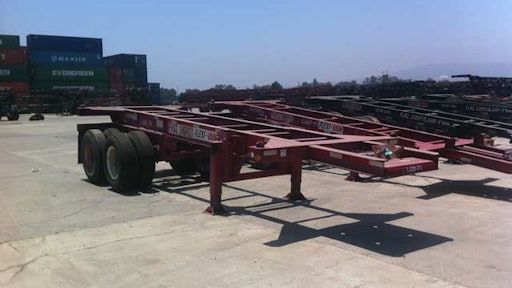 As U.S. seaports enter their busiest season, shippers and truckers expect to be plagued with a familiar problem: a shortage of chassis, a key piece of equipment that allows trucks to transport shipping containers, according to The Wall Street Journal.
Finding a free chassis – little more than a steel frame with wheels - can take hours, making them a top source of port congestion because containers can't be transferred from a ship to a truck without them, truck drivers say. Leasing companies also rent different types of chassis, so drivers must often go out of their way to return the equipment to specific locations, creating traffic problems at ports.
But a fix is proving difficult. The Port of New York and New Jersey had planned on July 1 to create a "gray pool" of chassis that could be rented by any trucker, streamlining the leasing process and potentially reducing wait times. But the project has been bogged down by disputes over who would operate the pool and where it would be located. The new start date is in October.
Meantime, some trucking companies are bracing for particularly bad congestion as ports ramp up for their busiest time of year. Shipping traffic usually rises in late summer and peaks toward the Christmas shopping season. Many key ports for retail shippers, including Savannah, Ga., and Los Angeles, are seeing high levels of cargo volume as the economy recovers. Chassis shortages are already causing delays, including one day in late June at a terminal in Elizabeth, N.J., where trucks waited for hours after the local leasing company ran low.
To read more, click HERE.