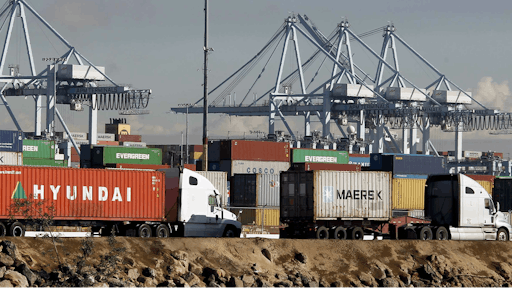 West Coast Port terminals are developing new ways to organize cargo at the docks and systems for getting cargo moving off the docks as quickly as possible, following a work stoppage caused by difficult labor contract negotiations, according to The Wall Street Journal. A tentative contract agreement was reached Feb. 20.
West Coast port terminals were inundated with inquiries from businesses across the U.S. that rely on the swift movement of their products, as port delays reached near gridlock. Ryan Molinaro, a terminal manager at this the Los Angeles, Calif. oceanfront port, said many of his customers, frustrated with their supply chain's snail's pace, insisted on coming to see and ask for themselves, "What is going on?"
All the pressure has management at the Southern California ports, which combined handle 40 percent of all containerized freight for the U.S., thinking about ways they can speed things up. Software developed by a local technology startup called Cargomatic, a sort of Uber for moving cargo around the Los Angeles region, serves as one creative solution.
As contract talks between the Pacific Maritime Association and the International Longshore and Warehouse Union crept along, the line of massive ships in San Pedro Bay became longer and container stacks in the terminal yards rose higher. Even now, since a tentative contract was reached Feb. 20, experts estimate it could be as long as six months before shipping returns to normal, and the delays could cost retailers billions of dollars this year.
Gene Seroka, executive director at the Port of Los Angeles, says its facilities are capable of handling 14 million twenty-foot-equivalent containers annually, but at the moment, "we're gridlocked at about 8.3 million."