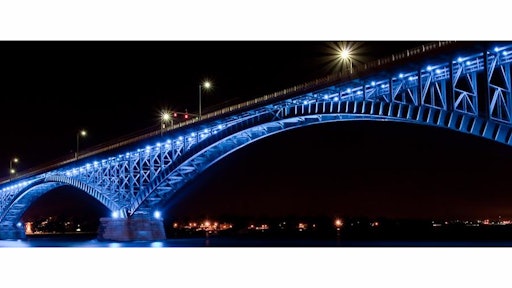 The steering committee of the Buffalo Niagara International Trade Gateway initiative announced today the formal creation Buffalo Niagara International Trade Gateway Organization (ITGO), a not-for-profit entity created to guide the implementation of the ITGO strategic plan, released in August, 2014. The primary goal of ITGO is to create a globally-known logistics hub in Western New York.
"As the connection between the East Coast and the Great Lakes, Buffalo Niagara has served as a North American logistics hub since the 1850s," said Jim Manno, board president of ITGO and vice president of sales and marketing for Sonwil Distribution Center. "Our logistical advantages are the same today – and even more so due to the rapid growth of Toronto and Southern Ontario. There is widespread belief – and multiple studies over the years have indicated – that enhancing and marketing our freight capabilities into and through Western New York will yield significant benefit to the attractiveness of our region for manufacturing growth and business attraction. ITGO's role is to make that happen."
ITGO grew initially out of the Bi-National/Logistics working group of the WNY Regional Economic Development Council. The initiative's strategic plan, crafted through the work of over 40 volunteers over the past three years, is rooted in two key studies – the Greater Buffalo Niagara Regional Transportation Council's Freight Study developed by Wilbur Smith Associates in 2010 and World Trade Center Buffalo Niagara's 2008 Freight Terminal Volume Feasibility Study.
The goal of ITGO is to take advantage of the various logistics assets Western New York has to offer to create a hub for international trade and logistics, including:
Strong road, rail, air and sea infrastructure;
Broad expertise in international trade, particularly with Canada; and
Our geographic location within one-day's drive of the largest and most important markets in North America.
"To accomplish the goal of creating a globally-recognized center for logistics and trade in Buffalo Niagara, over 40 volunteers have spent the last few years developing a strategic plan, including initiatives focused in five target areas: infrastructure, workforce, international trade, marketing and government relations," said Manno. "Those efforts have provided the foundation for ITGO and the work to come, and I can't say enough about the dedication and hard work of our team of volunteers."
Locally, ITGO works collaboratively with regional economic development organizations to ensure that its work aligns with on-going initiatives such as the Buffalo Billion, One Region Forward and Dream It, Do It. Both the Buffalo Billion plan (2012) and the WNY Regional Economic Development Council's award-winning 5-Year Plan (2011) call for a concentrated focus on logistics to support regional growth in manufacturing. With its vision for a bi-national logistics hub, ITGO's collaborators extend into Southern Ontario, as well.
Immediate action items for ITGO include further relationship-building with key players in international trade, development of a marketing plan positioning Buffalo Niagara as a logistics center, and advocacy for a permanent truck pre-inspection program at the Peace Bridge.
"This focus on freight in Buffalo Niagara will lead to enhanced capabilities, including availability of equipment, new resources and relationships and broader distribution lanes – all to the advantage of existing and new manufacturing and distribution companies," said Manno. "Simply put – freight equals jobs. We have the capacity and the expertise regionally to accomplish this, and looking forward to implementing ITGO's vision of a globally-known center for logistics and trade."