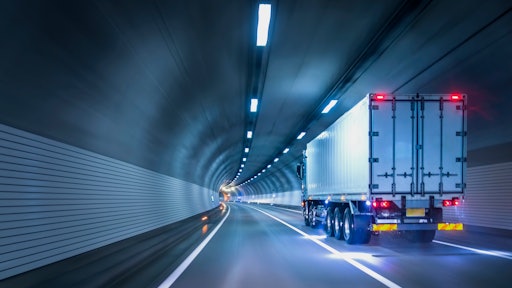 Getty Images
When the Coronavirus disease (COVID-19) hit, many facets of the supply chain experienced disruption. Restaurants closed, some permanently. Excess food went to waste. E-commerce boomed, further fueling the "Amazon Effect." And, the ever-present driver shortage gap transformed into an overall industry-wide labor shortage issue.
However, despite all of the hiccups and disruptions, trucks kept on truckin'.
In Food Logistics' August 2021 issue, editor-in-chief Marina Mayer talks with several industry experts about how the global 3PL market continues to play a pivotal role in how and why Americans receive essential goods in a safe and timely manner.
Here's an interview with Will Chu, CEO of Vector, with excerpts publishing in Food Logistics' August 2021 issue. [CLICK HERE to read the article in full].
Food Logistics: The 3PL market is set to grow to become an over $1.8 trillion sector by 2026, according to Global Market Insights, Inc. From your vantage point, what are some contributing factors to this growth?
Will Chu:
Globalization. Since the cost of labor and materials are much less overseas, manufacturing outside the U.S. has grown tremendously. Finished products need a place to stay before they make it to retail shelves or delivered directly to the end customer. 3PLs play an important role in warehousing, transporting and distributing products.
E-commerce. Very few businesses are good at everything, hence so many specialized services and products. Some manufacturers just want to focus on creating and marketing great products, so they rely on 3PLs to ensure their products reach their customers quickly and safely.
3PL specialization. The 3PL industry is so big that some 3PLs specialize in certain areas of logistics. Some focus on cross borders while others focus on a particular region. Some focus on LTL while others only focus on parcels. Some specialize in refrigeration while others only do last mile delivery.
Competition. It is much easier and more cost effective than ever to introduce new products to the market. This makes it incredibly competitive for products to compete. All manufacturers and retailers are looking for competitive advantages as well as ways to reduce costs and increase customer satisfaction. With so many products on the market, it is driving the need for more 3PLs.
Food Logistics: The transportation and supply chain industry continues to face supply chain disruption after supply chain disruption. How is your company working to overcome these challenges? (think technology, re-training drivers, etc.)
Chu: Vector provides a logistics management platform that helps facilities digitize the pickup and delivery process, integrate and translate data across systems and reduce warehousing and transportation costs. The benefits include less gate congestion, faster turnaround times, real-time visibility and transparency throughout the freight's chain of custody, reduced risks and significant efficiency gains in the field and back office.
Food Logistics: What is your company doing to meet last-mile demands in the cold food chain?
Chu: Some of the capabilities within the Vector platform account for temperature tails and a three-way match of the eBOL, seal verification and trailer number. This ensures the temperature at pickup was the same at drop-off and reduces the chances of the freight being delivered to the wrong location reducing the risk of spoilage.
Food Logistics: The driver shortage continues to plague the industry. What is your company doing to hire/retain drivers and/or attract new talent?
Chu: Since the Vector platform can reduce turnaround time from an hour to 11 minutes, it keeps drivers on the road longer instead of idling in yards. If each driver in the U.S. can make one more delivery per day because they are not stuck at a gate or waiting for a door assignment, the industry should be able to make more deliveries with fewer drivers.
Food Logistics: To piggyback on this, what changes need to be made (whether it be government, technology, regulations, etc.) to turn this shortage around?
Chu: There are a few things we've seen customers do to recruit and retain drivers.
●      Pay for driving school fees, permits, licenses, etc.
●       Get them the best and most comfortable trucks
●       Increase pay, benefits, perks and incentives
●       Earn lane seniority
●       Give them technology to make their job easier so they can just focus on driving
In regard to technology, we need commercial charging stations similar to gas stations across every major lane so that electric trucks can truly become a cross country reality.
Food Logistics: Driver safety is also of top concern. What is your company doing to ensure driver safety?
Chu: Our platform digitizes the pickup and delivery process, so the driver never has to leave the truck. This reduces the risk of them getting hit by equipment in the facility, slipping and falling in bad weather conditions, or spreading germs. This not only protects the drivers, but also the facility personnel.
Food Logistics: How does something like the COVID-19 pandemic affect the way 3PLs operate?
Chu: Like every business, leading 3PLs practice a philosophy of continuous improvement. Even the companies that had disaster recovery plans in place did not have an answer for the pandemic which exposed several holes in our supply chain. Building a resilient supply chain means understanding all of the risks and vulnerabilities that exist within it.
3PLs know that these are common areas of risk:
     ●        planning and supplier networks
     ●        transportation and logistics systems
     ●        financial resiliency
     ●        product complexity
     ●        organizational maturity
The above-mentioned risks pose these operational realities and challenges:
     ●        Globalization of supply chains
     ●        Specialized factories and centralized distribution
     ●        Outsourcing
     ●        Supplier consolidation
     ●        Volatility of demand
     ●        Lack of visibility and control procedures
Food Logistics: What does the future look like post-COVID-19? What should companies be doing now to secure a stronger, more resilient fleet in the future?
Chu: Logistics partners are fully aware of the risks and the challenges they pose. In order to create a more resilient fleet, they are going to have to figure out ways to improve their transportation and logistics systems. We are seeing fleets invest in smart facilities to reduce turnaround time and increase capacity as well as deploy solutions that give them better visibility and traceability.
Food Logistics: What are some things not addressed above that may be pertinent to our readers?
Chu: The pandemic shows how important it is to bring mission-critical manufacturing back to the United States. For example, semiconductors and 80% of the world's most powerful chips are made in Taiwan. Look at the bottleneck that is causing for various industries. Another example was the shortage of medical supplies and equipment.
[CLICK HERE to read the article in full].