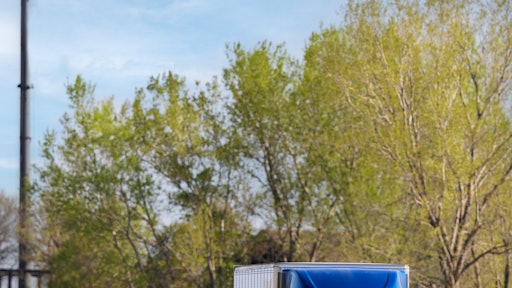 Werner Enterprises
When the Coronavirus disease (COVID-19) hit, many facets of the supply chain experienced disruption. Restaurants closed, some permanently. Excess food went to waste. E-commerce boomed, further fueling the "Amazon Effect." And, the ever-present driver shortage gap transformed into an overall industry-wide labor shortage issue.
However, despite all of the hiccups and disruptions, trucks kept on truckin'.
In Food Logistics' August 2021 issue, editor-in-chief Marina Mayer talks with several industry experts about how the global 3PL market continues to play a pivotal role in how and why Americans receive essential goods in a safe and timely manner.
Here's an interview with Craig Callahan, EVP and chief commercial officer at Werner Enterprises, with excerpts publishing in Food Logistics' August 2021 issue. [CLICK HERE to read the article in full].
Food Logistics: The 3PL market is set to grow to become an over $1.8 trillion sector by 2026, according to Global Market Insights, Inc. From your vantage point, what are some contributing factors to this growth?
Craig Callahan: Supply chains are increasingly complex which prompts more and more companies to align with experts (3PLs) to provide guidance and clarity. Manufactures are sourcing parts globally and automating production to meet the needs of retailers and distributors and are now being pushed to provide fulfillment in the traditional and e-commerce platforms. These constantly escalating requirements have driven organizations of all sizes to align with one or more 3PLs that have invested in people, processes and technology. Most companies have prioritized their capital investment on productivity-driving initiatives, leaving little capital to spend on supply chain technology. Given this, we continue to see companies challenging their 3PL carriers to make those technology investments and provide those services for them.
Food Logistics: The transportation and supply chain industry continue to face supply chain disruption after supply chain disruption. How is your company working to overcome these challenges? (think technology, re-training drivers, etc.)
Callahan: Because Werner has always been an industry leader in technology, we have been able to adjust to the ever-changing supply chain environments and meet the needs of our customers. In 2020, we solidified our commitment to technology as we launched Werner EDGE. Werner EDGE is our innovation arm dedicated to developing new solutions that enrich experiences for our drivers, associates and customers. Through Werner EDGE, we have implemented Critical Event Management, which identifies and responds to safety events more effectively and Breakdown Management, which simplifies the repair order process and gets drivers back on the road safely and without delay. Our EDGE Connect devices have really improved the communications process for our drivers and their workflow. These tablet devices are untethered, so our drivers have more mobility. They also have reduced manual data entry and have provided a seamless messaging workflow. We have installed GPS devices on our trailers, decreasing the time spent locating trailers.
We have extensive programs and communication methods to keep drivers up to date with new regulations. This was particularly important during the COVID pandemic. Our drivers are the backbone of our company, and we support them in every way that we can. Being able to effectively communicate with them and giving them all the tools needed to be successful is vital.
Food Logistics: What is your company doing to meet last-mile demands in the cold food chain?
Callahan: Werner's portfolio continues to evolve with our customers' needs, and temperature control is a good example. A portion of our One-Way network today is designated to the temperature control needs of our CPG, protein and grocery customers. Our truck and trailers are late model and fuel-efficient, which leads to fewer breakdowns and more time on the road and ultimately better service for our customers. In addition, we have opened a refrigerated cross-dock facility at our Laredo, Texas, terminal to allow seamless trans-loading at the border for our customers that source fresh and frozen food products to and from Mexico. We continue to make significant investments in this space to ensure that our customers have access to the right technology that will allow them to be compliant with the Food Safety Modernization Act guidelines. This includes access to temperature readings and location 24/7. In addition to our assets in this space, we also augment our truckload capabilities with a robust network of alliance carriers to support customers. Regarding the B2C customer needs, we launched our final-mile service four years ago in response to our customers' growing need for e-commerce options.
Food Logistics: The driver shortage continues to plague the industry. What is your company doing to hire/retain drivers and/or attract new talent?
Callahan: Werner's biggest focus has always been on our drivers. As a company started in 1956 by a driver, we have a unique perspective and insight into what drivers need to be successful. We ensure they are safe, earning competitive wages and have the latest technology available to improve their daily work. We have a placement team of recruiters whose full-time jobs are to communicate with our drivers and ensure they are on the best account for their lifestyle. Sometimes life situations change and maybe over-the-road is no longer practical. When these situations occur, we have systems in place to help that driver find the right fit here at Werner to match their needs. In 2016, we identified five areas that most significantly impact our drivers. Our 5Ts + S initiative was developed as a result of our commitment to invest in these areas -- Trucks, Trailers, Talent, Terminals, Technology and Sustainability. By investing in these five areas, we have been able to and will continue to improve the safety and overall quality of life of our professional drivers. Our Career Track program allows drivers to come to Werner and advance their skills at their pace, working with our driver leaders. We have also increased our 2021 driver pay packages, which equates to over $20 million, and we have a CDL school network to help people enter the industry. In fact, we are expanding the Roadmaster Drivers School network. Providing quality training to a future generation of safe professional truck drivers helps not only our fleet but also the overall industry. That network currently has 16 locations across the United States and will approach 20 locations by the end of the year. Werner has always treated drivers with respect, so we are just continuing to do what we have always done, it's just a matter of getting the word out to potential hires that Werner is a great company to work for.
Food Logistics: To piggyback on this, what changes need to be made (whether it be government, technology, regulations, etc.) to turn this shortage around?
Callahan: It will take a collective effort by the entire transportation industry to help navigate this shortage. Every dispatcher, shipping or distribution center manager, carrier and shipper should review any touchpoint they have with drivers and look at it through their eyes. In some cases, top-to-bottom changes need to occur, but even small improvements to policies and procedures can have wide-reaching effects. Any pain point that a driver feels in the supply chain is a potential exiting event.
Our continued advancements in technology will always include improving the experience of our drivers as a core goal. Werner EDGE extends to all corners of our business; however, the driver experience is where many solutions are focused.
The changes don't always have to be costly or heavy on technology. Streamlining load information or BOLs, verifying trailer status and locations on yards, ample parking, access to driver restrooms or simply vending machines all improve the driver experience. It's all about showing drivers the respect they deserve.
Food Logistics: Driver safety is also of top concern. What is your company doing to ensure driver safety?
Callahan: The company has a robust safety program with over 200 employees dedicated to working with our professional drivers to ensure the safe operation of our vehicles at all times. We leverage several different training opportunities for our drivers, including Quarterly Safety Training, Career Track Development, eLearning, live Close Quarters Maneuvering Training and Mentor Ride Alongs and Simulation Training using our state-of-the-art driver training simulators. We have driver training simulators in place at each of our full-service terminals, as well as mobile simulators used to deliver simulation training to our dedicated sites. In addition, our late-model trucks are spec'd with the latest generation of radar and camera-based collision mitigation systems. To quote our chairman, president and CEO, "Nothing we do is worth getting hurt or hurting others."
Food Logistics: How does something like the COVID-19 pandemic affect the way 3PLs operate?
Callahan: Very few companies, if any, were prepared for the supply chain challenges of a pandemic. Challenges like adapting to an at-home workforce, significant labor challenges in transportation and warehousing and a global supply chain with significant delays or completely unable to live up to their commitments left the 3PLs who weren't diversified or well-capitalized severely impacted. The successful 3PLs who had aligned themselves with a strong and diversified customer base were far less impacted and able to manage through the challenges by utilizing their technology to enable their team of resources to find solutions. A segment of new, technology-backed and nimble 3PLs began to emerge as they could be the early movers in the new post-pandemic environment.
Food Logistics: What does the future look like post-COVID-19? What should companies be doing now to secure a stronger, more resilient fleet in the future?
Callahan: We learned a lot from the COVID-19 pandemic, including the importance of being adaptable and flexible in a changing environment. One thing the entire country learned is how vitally important truck transportation is to our lives. Companies need to constantly be forward-thinking. While the pandemic caused us temporary disruptions, our strategic planning and our strong foundation have enabled us to weather that storm very well. Because of our advancements in technology, upgraded terminals and equipment, low debt and constant focus on safety, we are able to meet challenges head-on. Werner's network is built to withstand shifting environments.
Companies should continue to look closely at the ways that they do business, including ensuring that they put the safety of their employees first. In order to do this, there will need to be a focus on communication, providing safety resources and pertinent information in every business interaction.
[CLICK HERE to read the article in full].