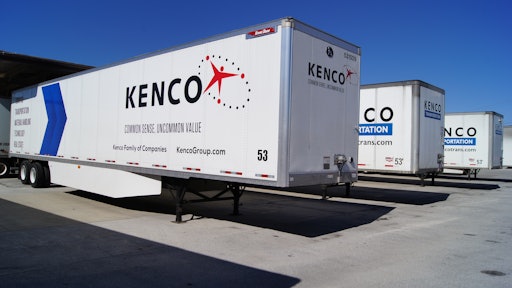 Kenco Logistics
When the Coronavirus disease (COVID-19) hit, many facets of the supply chain experienced disruption. Restaurants closed, some permanently. Excess food went to waste. E-commerce boomed, further fueling the "Amazon Effect." And, the ever-present driver shortage gap transformed into an overall industry-wide labor shortage issue.
However, despite all of the hiccups and disruptions, trucks kept on truckin'.
In Food Logistics' August 2021 issue, editor-in-chief Marina Mayer talks with several industry experts about how the global 3PL market continues to play a pivotal role in how and why Americans receive essential goods in a safe and timely manner.
Here's an interview with Mike McClelland, SVP of transportation for Kenco Logistics, with excerpts publishing in Food Logistics' August 2021 issue. [CLICK HERE to read the article in full].
Food Logistics: The 3PL market is set to grow to become an over $1.8 trillion sector by 2026, according to Global Market Insights, Inc. From your vantage point, what are some contributing factors to this growth?
Mike McClelland: Supply chains for shippers of all sizes are getting more complex to meet the demands of their customers. A capable 3PL partner can help the shipper meet the volatile customer demands while insulating them from unprecedented carrier rate pressure. Shippers are no longer seeking basic tactical support from 3PLs through archaic client-vendor management. 3PLs are now requiring them to provide technology, innovation and strategy to shippers' networks through collaborative and transparent relationships.
Food Logistics: The transportation and supply chain industry continues to face supply chain disruption after supply chain disruption. How is your company working to overcome these challenges? (think technology, re-training drivers, etc.)
McClelland: We are investing in improved visibility tools, AI and predictive analytics that will enable us to provide end-to-end visibility, improve efficiency and enable our team to be more proactive in managing our customers shipments.
Food Logistics: What is your company doing to meet last-mile demands in the cold food chain?
McClelland: We rely on our supply chain solution team to design routes [that] meet the unique and non-traditional demands in these types of programs. By creating reliable, dedicated routes, we can monitor asset utilization and adapt as our client's networks change. Flexibility and scalability are typically key aspects of the vision upon choosing to implement a dedicated program, but deploying experienced and professional drivers is what drives our success. Our drivers must protect the shippers' brand to their end customers and retail facilities. Whether operated by a Kenco driver or partner carrier, we realize the importance of a safe, reliable network delivered in a consistent manner aligned with the client's quality standards.
Food Logistics: The driver shortage continues to plague the industry. What is your company doing to hire/retain drivers and/or attract new talent?
McClelland: Quality of life is a key factor driving drivers to leave for other industries. Our 10% turnover rate is no accident in our dedicated programs. We focus on creating a safe atmosphere for our drivers that provides a balance between work and home time. We pride ourselves on operating one of the safest fleets on the road, year-after-year through initial and ongoing training complemented by the most powerful in-cab technology. Our drivers know how much we value them and our commitment to keeping them safe. Additionally, we also offer creative and competitive pay packages with driver incentives and bonuses.
Food Logistics: To piggyback on this, what changes need to be made (whether it be government, technology, regulations, etc.) to turn this shortage around?
McClelland: I think as in-cab technology continues to advance, it may make sense to look at hours of service as driver fatigue and other factors should diminish with increased technology. Another opportunity is to help improve driver productivity. Drivers lose a lot of productivity sitting at docks and in traffic.
Food Logistics: Driver safety is also of top concern. What is your company doing to ensure driver safety?
McClelland: Besides the normal scheduled safety meetings and training sessions, we use in-cab camera technology that enables us to monitor driver safety/driving and then provide in the moment coaching to the driver. It also helps determine incident causes and liability
Food Logistics: How does something like the COVID-19 pandemic affect the way 3PLs operate?
McClelland: 3PLs must be able to change and adapt to meet the fast-changing supply chain environment. The rise in direct-to-consumer shipping caused by the pandemic has created capacity challenges in places and modes that normally have not experienced challenges in the past. Customers have also been seeking additional flex warehouse space as they shift their strategy to be able to react to spikes in demand.
Food Logistics: What does the future look like post-COVID-19? What should companies be doing now to secure a stronger, more resilient fleet in the future?
McClelland: I think there will be a continued increase and emphasis in the final-mile delivery space as customers extend the customer experience outside their walls to a customer's home. 3PLs that can offer warehousing and dedicated final-mile delivery are positioned well to help fill these needs.
Food Logistics: What are some things not addressed above that may be pertinent to our readers?
McClelland: As supply chains grow in complexity and become more dynamic, we believe the 3PL who can offer an integrated end-to-end solution has a distinct advantage. Having a partner that controls the entire process provides greater control, visibility and flexibility.
[CLICK HERE to read the article in full].