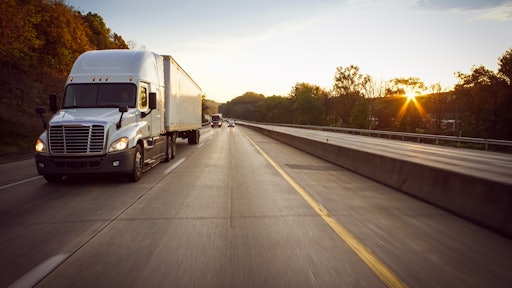 5m3photos - Adobe Stock - On the Road
There's no contesting that 2020 brought about significant changes in nearly every industry, none impacted more notably than shipping and transportation. Several key issues continue to plague the less-than-truckload (LTL) industry in 2021. Solutions that address these challenges could help stimulate a turnaround toward success for the transportation industry. Consider some of the ongoing concerns for the LTL sector:
Driver shortage
A shortage of drivers and transportation professionals has been an ongoing concern in the industry for several years, but we've seen an even greater shortage constraint in 2020. In recent years, we've seen a driver shortage for four key reasons.
First, drivers must be at least 21 years old to obtain a commercial driver's license. That means recent high school graduates looking for work will turn to alternative careers. Thus, the transportation industry misses out on that initial influx of new hires (who could potentially become career drivers).
Second, the federal Drug and Alcohol Clearinghouse is now in effect, which works to identify Class A and Class B drivers who have a drug or alcohol violation. While the intent of the Clearinghouse is based on the safety and wellness of all drivers on the road, reports are showing that thousands of drivers have been put on probation or out of work due to this program, further tightening the shortage.
Thirdly, drivers are often underpaid and overworked. Drivers work long, exhaustive hours and a lot of trucking companies undervalue their workers' time. It's hard to retain talent and attract new drivers when employees' compensation packages and work-life balance still isn't highly valued by a lot of organizations.
Finally, one of the biggest transportation employment competitors is construction. With construction rebounding and thriving, drivers are switching jobs to the construction industry, thus further depleting the driver pool. None of those concerns have thus far been properly addressed. Now, even further, we also pile on the impacts that have come from the Coronavirus disease (COVID-19). Drivers, especially long-haul drivers, are considered a high risk for contracting COVID-19. In an effort to keep themselves and their families safe, a lot of drivers have left the industry to seek "less-risky" employment. Furthermore, any drivers who have caught the virus are forced to quarantine for two weeks (like everyone else). As the pandemic continues on, risk is high and compensation for drivers is still low, so a lot of drivers have decided to switch career paths.
Dock worker shortage
Overall, we're seeing a major lack of manpower in the transportation industry. Not only are there not enough drivers, but there also aren't enough dock workers, warehousing staff, and support employees. The reasons for these personnel shortages are similar to those mentioned above. Most notably, LTL workers are switching to the e-commerce industry for greater pay and better job security.
Thus far, we're still not seeing a majority of LTL companies making the effort to provide better benefits for their employees, so their employees are leaving by the droves. If transport organizations want to reduce their shortages and enhance their businesses, it's time to start focusing on the human aspect of the business.
Capacity shortage
It's not just a shortage of drivers that's putting trucks at a standstill. There also aren't enough trucks for all the packages that need to be sent. Alongside the shortage of employees, there's simply too much freight and not enough physical resources like trucks, shelving, and equipment to support the increased volumes. This is a twofold issue: a shortage of resources with an increase in volume.
First, there's a scarcity of tractors and trailers along with facility restraints, particularly not enough dock space and terminal operating doors. We're also seeing lane imbalances (headhaul vs. backhaul) with a lot of trucks end up making the trip home with excess unused capacity.
Alongside these equipment deficiencies, we're seeing a significant increase in packages sent. Some LTL carriers have experienced up to 4,000 additional shipments per day compared to 2019. E-commerce has surged, especially in 2020 when even groceries and personal care products moved to online purchasing. Manufacturing and digital business are on the rise, and trucking companies haven't figured out how to handle this increased flow of business yet.
A lot of LTL companies are looking toward automation to help relieve some of these shortage concerns, like self-driving trucks and warehouse robots. However, implementation is too slow and inconsistent for this to be the short-term solution.
Higher LTL carrier operating expenses
LTL carriers saw a slight decrease in operating costs in 2019, but these expenses have again skyrocketed in 2020 moving into 2021. What do some of these operating expenses look like?
● LTL companies need to offer competitive wages and benefits packages to employees in order to reduce turnover and recruit new workers, which will be the best short-term effort to address the driver and worker shortage.
● The cost of equipment maintenance, both parts and labor, is increasing. It's more critical than ever to upkeep equipment considering the capacity shortage, so LTL carriers are forced to pay higher maintenance costs without much wiggle room.
● Also working to address the capacity shortage, carriers are investing in more equipment, tractors/trailers, facilities, and automation. These are creating hefty upfront and operating costs that are eating away at margins.
● Fuel costs are expected to rise again as the economy picks up and people return to work and travel in 2021.
● Insurance costs are also rising. "Nuclear verdicts" are settlements often over $10 million, resulting from serious crashes involving injury and/or death. One study found that nuclear cases are up 300%, so insurance carriers are raising rates to meet these costs.
● Higher operating costs often mean higher costs pushed to shippers or a further tightening of LTL margins.
Poor transit service
Transit service is at an all-time low. Including the aforementioned concerns, we're also seeing that service is being impacted by wildfires, hurricanes, other natural disasters, the spreading of COVID-19 (especially in pocket areas) and an increase in West coast imports. Transit service is suffering while trying to battle these variables. On-time results are only about 80-85% for national carriers and slightly better with 85-90% for regional carriers, but clients are demanding so much more. LTL carriers are deploying new, temporary business strategies to improve these on-time results, but they might have positive or negative impacts for customers. Some of these strategies that could impact customers include:
● Refusal to handle overlength shipments (8- to 12-feet-plus)
● Refusal to handle high volume (10,000-plus pounds) shipments
● Refusal to handle large skid orders (7-plus)
● Refusal to handle lighter volume (low density) or high-capacity cube shipments
● Designated zip code embargoes
● Limiting significant lane imbalances (headhaul vs. backhaul)
● Cancellations resulting from lower revenue thresholds
● Reduction in expedited and guaranteed services to limit exposure
● Eliminate high-cargo claim shipments
● Reduction remote pick-up and delivery area shipments
Freight rate increases
Freight rates are rising due to all of the factors mentioned above—driver and worker shortages, capacity shortages, higher operating expenses and poor service metrics. There are other factors contributing to increasing freight rates that are going to hit LTL carriers and shippers hard as well:
70% of a carrier's overall expenses, including labor, fuel, equipment leases and equipment maintenance must be paid within 30 days. These 30-day payment terms are consistently not being met. Rates are thus increasing since carriers aren't paying in full on time.
Lane imbalances negatively affect labor, fuel, capacity, equipment usage and transit service. Carriers are offsetting these additional expenses due to severe headhaul vs. backhaul inequities with rate increases.
Labor and equipment charges aren't being fully accounted for in the base price right now but are instead tied to accessorial charges. Carriers are getting more aggressive about capturing every dollar via the Rules Tariff, especially in the areas of detention, overlength, cubic capacity, liftgates, appointments, high-cost zones, remote areas, residential and inside deliveries.
Carriers measure profitability using an operating ratio that determines the relationship of cost/loss compared to revenue. Cargo claim expenses come straight off the monthly carrier profit and loss report. As cargo claim denials are increasing, loss is also rising and profitability is thus decreasing.
Bottom line—carriers can improve their operating ratios through two strategies. Either 1) lower costs and losses or 2) raise revenues. Lowering costs is a lot harder, especially in today's climate, and the results happen slower. Raising revenues through rate increases is fast and easy. That's why so many carriers are simply raising rates, rather than addressing business strategy on the whole.
What to expect in 2021
To summarize, in 2021, shippers can expect:
● Carrier freight rate increases
● Carrier refusals to bid for certain commodities, volumes and lanes
● Strict payment terms not to exceed 30 days
● Added accessorial fees and enforcement
● Poor or below average transit service
● Increased client cancellations
● Required revenue thresholds for customers
● Carrier refusal to provide additional equipment or resources when requested
What can shippers do?
One of the best courses of action to overcome these shipping challenges is partnering with a third-party logistics (3PL) provider. Based on their depth of experience, they can provide shippers with a more diverse perspective and the expertise to address these obstacles. They can provide the technology tools, scale and operational support shippers may not otherwise have at their disposal within the confines of their company's budget. Many commercialize deals where their fees come from the savings they generate. This makes these resources significantly affordable and quick to engage without the typical budget hurdles in a fee-based model. With the right digital tools and human support, shippers can build more sustainable solutions to help their network win regardless of market conditions. Some of these strategies include but are not limited to: :
· Leveraging technology to choose the right carrier, rate and service combination.
· Using 3PLs and expertise to directionally load and leverage spend to reduce costs.
· Setting carrier service KPIs and providing analytics on accurate carrier service.
· Enabling visibility, real data and problem resolution.
· Model and rationalize sourcing and distribution network for the optimal inventory cost while still meeting client service requirements.
· Working with 3PLs to incorporate mitigation strategies to prevent system bottlenecks.
· Creating customized tariffs and pricing programs based on company requirements.
· Integrating systems and data to streamline key decision points within supply chain data-driven analysis and decision making.
With the right logistics partner, shippers can successfully navigate the challenging LTL shipping market's ebbs and flows.