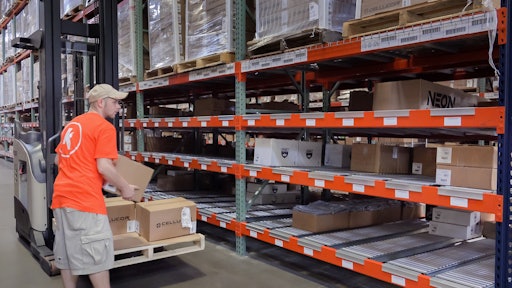 Communication and collaboration are the most critical factors in establishing a successful relationship between food and beverage customers and their third-party logistics providers, and 3PLs said that the right information enables them to improve inventory turns, cut costs and improve service.
Mike Gardner, chief executive officer of Kane is Able Inc., based in Taylor, Pa., said having a trusting relationship and being deliberate and proactive ensures shippers have what they need when they need it. "There is a high premium and high stakes to get the product to the customer when they want it," he says, adding that it is the data that allows 3PLs to provide a higher level of service.
Gary York, director of global sales for C.H. Robinson, Eden Prairie, Minn., says, "Collaboration is probably the most important word and under utilized concept you can take advantage of in a positive way to improve the supply chain throughout the world."
Collaboration takes on even more importance when handling perishable products, such as produce, and that collaboration needs to span the full global supply chain, York says. "When I think of collaboration, I think of collaboration between governments, providers of fresh fruits and vegetables, between countries and companies that play across the supply chain," he explains.
Sharing early in the relationship
Providers say the need for information starts early in the relationship. When Justin Woodall, vice president of supply chain for Nutrabolt, a Bryan, Texas-based manufacturer of nutritional products, started working with Kane is Able, he was forthcoming with his data. "If you're not willing to share the data, you will end up having issues down the road that you could have addressed earlier. In the end, you want to be able to share everything that needs to be shared to make the partnership the best that it could be," he says.
The challenge was much of Nutrabolt's data was outdated because the company was growing rapidly. Not only was Nutrabolt adding new SKUs at a rapid pace, it didn't have the systems in place to capture all of the data it could have.
Woodall used Kane is Able's expertise to help refine and fill in data and, later, obtain better information. Ken Joseph, director of operations for Kane is Able, said the two companies went back and forth to get the figures they needed. "At one point we said to heck with the data. We'll figure it out with you," he says.
Now the information flows back and forth, enabling both parties to use it to improve operations. "As we collect data in a more secure or stable environment, Justin and his crew are able to use it," Joseph says.
Woodall says that collaboration helped increase the company's already explosive growth. "The pain points are what slow you down," he says, adding that Kane is Able helped Nutrabolt eliminate manual checks and improve order accuracy as well as its overall warehouse operations.
John Kelley, senior account director with APL Logistics, based in Scottsdale, Ariz., says collaboration is most effective when it takes place on multiple levels, particularly when it occurs early in the planning process. APL Logistics holds quarterly business reviews, weekly opps calls and monthly financial calls with its food accounts.
"If we're included in their annual budgeting process, we can make their cost-saving goals our goals. We may be able to come up with ideas they hadn't thought of," Kelley says, adding that the company recently suggested a trailer detention program for a customer that resulted in millions of dollars of savings.
Nutrabolt even tries to engage Kane is Able as it is developing new SKUs. "They'll put in their input before we get too far down the product development phase, but sometimes we have to react quickly and it might only be a couple of days notice and they've done well with adapting and overcoming that with us," Woodall says.
Blair Thomas, director of customer care at Columbian Logistics Network, based in Grand Rapids, Mich., said it is important for 3PLs to obtain master data—the complete list of parts, ingredients, items, SKUs or other materials that the customer intends to store—along with velocity information from customers.
"3PLs have very sophisticated industrial engineering departments these days, so the more data they have at the front end, the better engineered the solution will be," Thomas says. "The 3PL/customer relationship can flourish from the beginning if the engineers know basic and accurate information about the products, like weights and dimensions, lot or batch code structures, allergen sensitivities or other properties."
In today's operating environment, having data is no longer enough. It needs to be in real time. With the right systems, 3PLs can increase visibility, which in turns allows shippers and providers to speed up the cold chain so products arrive in a fresher fashion and retailers can increase inventory turns.
"Longer shelf life equals additional profits," York says. "Utilizing technology that allows our customers to see the product in transit and understand what the most optimized routes look like and achieve that as part of the norm. When you're able to be able to understand routes, vessel routes, lanes and take hours and days out of the supply chain, that is important."
John Haggerty, vice president of business development for Burris Logistics, based in Milford, Del., says, "Ultimately, we want to give them real-time visibility. In some cases we're performing the replenishment function by managing data for the customers. In a collaborative way we're working with the retailer to do the forecasting and planning."
Michael Sinkovitz, senior director of operations for Coyote Logistics based in Chicago, Ill., says visibility is a common need among food and beverage shippers as it can prevent detention, late deliveries and other supply chain disruptions. To speed the flow of information, Coyote has implemented programs between its systems and shippers' enterprise resource planning systems to allow for seamless communication through electronic data interchanges, phone, e-mail or Coyote's web-based portal, coyote.com.
Customer success is common goal
In addition to having operating information and timely data, Sinkovitz says 3PLs need to know how the customer defines success so everyone is working toward a common goal, which leads to continuous collaboration and a healthier business relationship. "It's extremely important that a 3PL understands a customer's overall business objectives and what key performance indicators the customer uses to monitor its network and drive business decisions," he says.
Technology, such as GPS devices, facilitates data exchanges and ensures nothing is lost, but Gardner says human interaction is crucial to communication. Personal interaction adds to the relationship and regular conversations can help shippers and 3PLs work together to minimize pain points.
Because Nutrabolt is growing rapidly, it can create a number of challenges, and key team players work together to find solutions. "When Nutrabolt needs to move fast, they have access to our senior leadership and we're able to move quickly. That matches up with their need to go fast in their market," Joseph says, adding that Kane is Able's network facilitates additional collaboration between its customers.
For Nutrabolt, the end of the month is a tedious, busy time, but Kane is Able shifts its labor force within some warehouses to accommodate the surge Nutrabolt is experiencing. "We're able in some of the facilities to use employees that are dedicated to the other side of the building. Our busy times don't hit at the same time as the other companies," Woodall says.
Improved information can help facilitate multivendor consolidation, which allows shippers to achieve better economy of scale. "Bringing together multiple food shippers going to the same destination to share assets brings transportation savings, which is one of their biggest supply chain costs, but it can improve service," Kelley says.
Haggerty said consolidation programs eliminate multiple less-than-truckload deliveries to retailers to give them fewer deliveries and reduced paperwork. "We're doing this in fresh categories, private-label products, produce and frozen," Haggerty says.
The fresh categories have experienced massive SKU proliferation and orders are becoming more frequent and smaller, Haggerty explains. "What has happened as a result is retailers are having a more difficult time optimizing the shelf with shelf availability and manufacturers are having a hard time filling orders," he says.
Gardner says 3PLs' flexibility can help ensure business continuity when problems arise. "It is coming up with creative solutions to mitigate something that has happened in the supply chain," he says.
With the right information, 3PLs can run models for shippers to create different "what-if" scenarios. "You have to have access to all of their supply chain costs from inbound and outbound standpoint and supplier expenses as well," Kelley says, adding that the analysis typically results in a 10 to 15 percent cost savings across the network.
Although the sharing of information can optimize the relationship, some shippers are reluctant to share data, which is why there has to be a certain level of integrity, Gardner says. "It is about communication, trust and mutual respect. If they're honest with the pain points and willing to share data, we can get to a good place and a good answer," he says.
York says, "It still is a world where our customers are looking for advantages and you have to be secure with the information they give you."
Woodall says Nutrabolt and Kane have developed a strong relationship and both companies trust each other and are both working to create a win-win situation.
"With Kane, we've had a really good partner helping guide us and being our eyes on the ground. We're not there, so we rely on them to be an extension of us to troubleshoot and help us continually improve," Woodall says.
Thomas says the 3PL/customer relationship is no place for secrets. "The more open and honest a manufacturing or food processing firm can be about what those complexities look like, the better the final solution will look," Thomas says.
For More Information:
APL Logistics, apllogistics.com
Burris Logistics, burrislogistics.com
C.H. Robinson, chrobinson.com
Columbian Logistics Network, columbianlogistics.com
Coyote Logistics, coyote.com
Kane is Able Inc., kaneisable.com