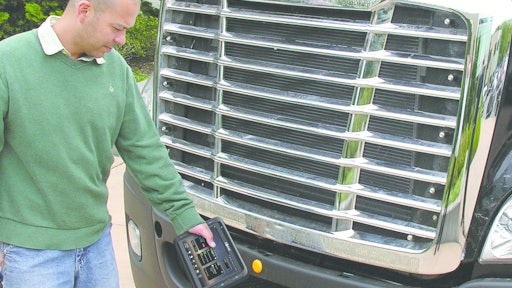 "It's 10 p.m. Do you know where your children are?"
For those who remember that question from late evening public service announcements targeting parents during the 1970's, you may also recall feeling a small degree of fear. The fear could become particularly acute when realizing the children weren't home and you didn't know who they were with, what they were doing, or how they were doing.
Today, that same question, only posed differently to food, beverage and food service fleet owners and managers, may elicit a similar emotional reaction: "It's 9 a.m. Do you know where your delivery trucks are?"
For food, beverage and food service fleets, the right telematics system not only answers that question and alleviates their managers' fears, but also goes beyond providing the locations of their trucks, says Dan Fehrenbacher, sales solution engineering manager for Zonar. It shows the conditions of their trucks, what their trucks are doing and when. At any given time, drivers can get their trucks stuck in heavy traffic or in a line of vehicles stopped at a construction zone, or they park their trucks with the engines running, without thinking about the fuel they're burning during their "quick" unscheduled stops, Fehrenbacher explains.
"These situations can result in big reductions in fuel economy," he says. "And without an effective telematics system, dispatchers, fleet managers or fleet owners wouldn't know about these delays. But that's not all they wouldn't know."
Out-of-route miles, incomplete vehicle inspections and unnecessary idling can also add serious and avoidable operating costs that remain hidden without a good telematics system to reveal them.
"Telematics platforms like those Zonar offers can do a myriad of things to help fleet managers measure, manage and improve vehicle efficiency, including fuel economy, plus effective asset utilization, proper maintenance, and more," Fehrenbacher says. "It just depends on what managers want or need to improve in their fleet operations."
Fehrenbacher's team of sales solution engineers help customers adopt, develop and fine-tune the telematics technology Zonar offers, including its Web-based fleet management system, the V3 vehicle diagnostics and fleet tracking platform, the 2020 mobile communications tablet and EVIR electronic vehicle inspection report.
Based on some of his team's experiences, Fehrenbacher offers this advice on how fleet operators can use telematics systems to realize greater operational efficiencies:
1. Route optimization and fuel consumption. By using a full featured telematics system, fleet managers can optimize vehicle routing, identify unauthorized use of vehicles, and track what happens on their vehicles and when. With features such as geofencing, path and schedule/audit reports, managers can establish geographic boundaries where, for example, drivers should or should not drive, explains Fehrenbacher says.
"A national fleet study indicated that for every 30 vehicles operated, on average a fleet will experience 40 miles of unauthorized use on a weekly basis where drivers may travel out of route for any number of reasons," he says. "It's only 1.3 miles per vehicle per week, but it adds up."
An onboard navigation system should recognize the vehicle profile and route around restricted areas such as bridges, hazardous cargo and weight restrictions. With the geofencing and alerting feature, if a vehicle enters into an area that is restricted or may be hazardous, such as a certain railroad crossing, the dispatcher can be alerted instantly. In addition, if a dispatcher needs to notify drivers of road closures or construction delays, he can alert the drivers and send the information to their in-cab navigation to reroute them, Fehrenbacher says. It also helps drivers and fleet managers identify the right routes to get from point A to point B based on actual travel times and traffic patterns. At the same time, managers can use the geofencing feature to be alerted if the freight doors on their vans or trailers are opened at unexpected locations or times, he adds.
2. Driver inspections and maintenance costs. A telematics system with an electronic vehicle inspection reporting component can help fleets identify potential maintenance issues so they can be dealt with during non-revenue hours.
Fehrenbacher notes that even if the federal government changes its regulations so that they only require operators to track problems identified during driver inspections, it's still important to use an electronic vehicle inspection system to track inspections and defects in real time and record a date- and time-stamp.
"This tells fleet managers when drivers did their inspections and how long it took them," he says. "Without it, it's too easy for drivers to take short cuts and miss problems that could have been addressed at the shop that evening. Failure to do so can result in on-road breakdowns, out-of-service violations or driver downtime the next day."
Real time reporting of defects helps shops with scheduling and prioritizing repairs, which can improve maintenance scores under the Federal Motor Carriers Safety Administration's Compliance, Safety, Accountability program, he adds.
"Telematics data platforms help fleets by reducing their fuel costs associated with out-of-route miles and excessive idling and by reducing the risks and liabilities associated with theft, speeding and non-compliance with hours-of-service and vehicle inspections," Fehrenbacher says. "And, these are just a few of the operational efficiencies fleet operators can realize with telematics."